One of the points on which successful business people agree is that getting the right people into your organisation is fundamental. If you ensure your company does an exceptional job of bringing in and retaining the right people on the bus to perpetuate your good recruitment decisions for a very long time. From Jim Collins in 'Good to Great' through to Laszlo Bock's 'Work Rules' describing some of Google's people operations, the message is clear. The question to ask is: first who, then what?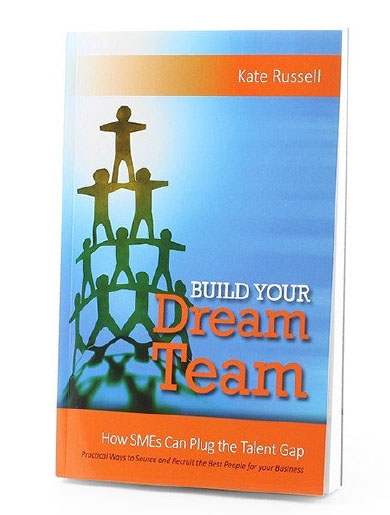 It's getting harder to find, attract and recruit the right people. These days sales and marketing activity is not confined to bringing in new business. You must sell your business products and services to the best employee talent as well.
In business you are who you recruit
If you only recruit "Paretos" (the 20% of employees you spend 80% of your time managing) you will lose to the competition. If you recruit average performers you will do OK but it will always be an effort. You won't fly. But if you recruit an A team you'll have what you need to make your business dreams come true.
In her latest book, Russell HR Consulting Managing Director, Kate Russell, explains how she has researched and brought together some of the most effective processes for sourcing, attracting and recruiting talent. Recruiting the right staff into your team is the most important responsibility of any manager. Fewer than 50% of UK firms do not have a formal recruitment strategy and only one in eight managers have been trained on interviewing and hiring process. With more than four in five employers struggling to attract the right talent, the advice in 'Build Your Dream Team' is aimed at SMEs, taking the best practice from the greatest employers and showing how implementing recruitment process in your business will pay huge dividends.
Here are the chapter headings:
Chapter 1 – Employer branding
Chapter 2 – Where to find talent
Chapter 3 – Benefits
Chapter 4 – The ideal employee
Chapter 5 – Attracting talented candidates
Chapter 6 – Assess applications efficiently
Chapter 7 – Different talent pools
Chapter 8 – Recruitment case studies
Chapter 9 – On-boarding
Further reading and resources
Free download
Index
How to Buy Your Own Copy
Fill in your details to buy your copy of Build Your Dream Team and we will post you a copy today.
The book price is £13.00 with free shipping in the UK, £3.50 airmail to Europe and £7.00 airmail to the rest of the world.
Contact US
No-nonsense approach
Concise, robust advice
Guaranteed work
---
Testimonials
This training made HR exciting for once!
See all...