Christine Pratt is the MD of HR & Diversity Management Limited and founder of the National Bullying Helpline.
Using email to reprimand staff is never appropriate, in our view. It is also a serious breach of procedure. Despite this, it seems it is a common problem. We asked a group of employers and HR professionals whether this practice is a subtle form of corporate cyber bullying, poor leadership or whether it is simply a training oversight.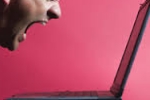 Whilst disgruntled employees are known to turn to Facebook, Twitter and other social media platforms to criticise colleagues and management, we seem to have overlooked the role of the line manager. At The National Bullying Helpline, run by HR & Diversity Management Limited, rarely a day goes by without an aggrieved employee complaining about the way their line manager has used an internal email system to reprimand them, or worse, to formally discipline or dismiss them. This appears to be a common, often unacknowledged, practice across a number of industries and sectors.
Our research was conducted through an on-line forum and we received some interesting, but not surprising, responses. Opinion was divided.
Some argued, vehemently, that it was merely a training oversight. Some went so far as to suggest that the employee should not penalise a manager for his/her lack of leadership skills. One said; 'There is a risk of labelling managers as bullies when they might simply lack support themselves'. Many thought that a critical email may be misguided but should not be labelled 'bullying'.
On the whole though the majority agreed that this practice was totally unacceptable and a clear breach of the ACAS Code of Practice. Hiding behind the computer instead of interacting with subordinates on a face to face basis is not only lazy but it is a management style likely to lead to misinterpretation and further contention. In worst cases the manager may be scared of confrontation and/or lack confidence. Whatever the reason, one has to ask whether that manager understands the importance of following process and whether s/he should be in a position of authority in the first place. The rule should always be: If you can't say something face-to-face then don't put it in an email.
A good manager will understand the basic policies and procedures, adhere to employment processes and treat staff with dignity and respect. The pro-active employer will know where their line managers and supervisors need training and support. Lack of training is no excuse. Email is not an acceptable forum for reprimanding a member of the team under any circumstance. A thorough, open and transparent, investigation is required in every case. Face-to-face interaction has to be the first stage in any contentious matter, with a written follow-up (where necessary) in letter format - and not via email! Anything less is deemed weak management and poor leadership and, ultimately, a huge risk to the organisation.
In a world of increasing cyber bullying and internet crime, employers need to ensure they have a social media policy and that it is a) kept up to date b) properly communicated, and c) applies to all staff, at all levels. After all, cyber bullying does not discriminate.
Christine Pratt FInstLM & FCMI Tel: 07734 701221
Director of HR & Diversity Management Limited www.hrdiversity.co.uk
Founder of The National Bullying Helpline www.nationalbullyinghelpline.co.uk
and www.eCRIME-action.co.uk