If you want HR happiness just recruit the right people. Simple when you say it quickly. But if you've done any recruitment recently you'll know how hard it is to find great candidates.
In a very noisy age, your job adverts need to stand out to attract the interest of good people. Recently I came across some creative ideas, which might prompt thought as to how to develop your own eye-catching recruitment campaigns. Here are some of my favourites.
Volkswagen wanted skilled mechanics, so it distributed damaged vehicles to repair shops across Germany, leaving a job advert on the undercarriage of each. It helped the company bring in a number of talented workers and establish themselves as an innovative recruiting brand.
IKEA's came up with a clever – and very cost-effective - recruiting strategy which is a good example of how the company harnesses the simplicity of its brand promise.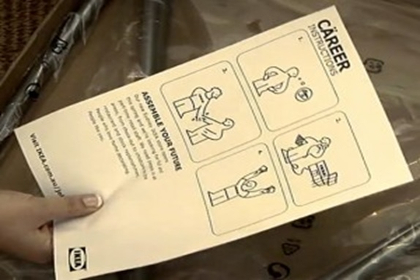 When opening its new Australian Mega Store in 2011, the company needed to fill 100 positions and wanted a direct yet cost-effective approach to its recruitment process. It placed "Career Instructions" inside each of the company's signature flat-pack product boxes. When customers opened their new IKEA products, they had instructions on how to "assemble a future" with this highly successful Swedish company. The outcome was 4,285 quality applications that resulted in 280 new appointments.
The MGM Grand looked internally for a new head chef for one of their restaurants, running its own version of popular reality show 'Iron Chef'. Teams from each of the casino's 16 eateries, ranging from top chefs right down to cooks from the employee diner, were given a secret ingredient and instructed to put together a four course meal in under one hour. The victor, a 23 year old sous chef from a 24 hour coffee shop, has increased sales at the upscale Japanese restaurant by 400%!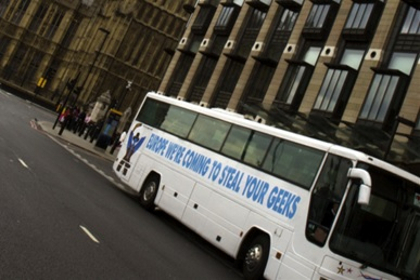 Last is my favourite "geek stealer" advert. To deal with the shortage of Australian engineers, Sydney based software company Atlassian launched a campaign to hire 15 European developers and relocate them to Silcon Beach. Decking out a bus and hosting meetups and interviews all over Europe, potential candidates could track the bus' progress and apply for a chance to move to Australia. It was apparently very successful!
If you need help with creative recruitment or sorting out HR problems, give us a call on 01908 262628.
Sign up for our free resources and free weekly tip - subscribe here.
For help resolving all your HR queries and problems get in touch!
Phone 0345 644 8955
LinkedIn Russell HR Consulting
DISCLAIMER
Although every effort has been made to ensure the accuracy of the information contained in this blog, nothing herein should be construed as giving advice and no responsibility will be taken for inaccuracies or errors.
Copyright © 2018 all rights reserved. You may copy or distribute this blog as long as this copyright notice and full information about contacting the author are attached. The author is Kate Russell of Russell HR Consulting Ltd.