When bereavement occurs in the workplace, everyone around may be affected and productivity can come to a sudden grinding halt. Anything that disrupts work potentially threatens the survival of the organisation. Compassion and practical issues can find themselves at loggerheads and unless both can find a way to work side by side, the fallout can be devastating to all concerned. In this piece our guest blogger bereavement counselor Judy Carole identifies some of the issues and shares her advice.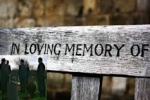 It is extremely unlikely that any of us will escape bereavement during our lifetimes. This can be a life-changing experience or a moment of discomfort, hastily forgotten. Bereavement can enter through many doors of a company: through the loss of someone very close to a key employee or to the member of a team, or the loss of someone within the team. This makes it all the more surprising that most organisations do not have a template for bereavement anywhere in their employee handbook.
If a member of the staff has died, those who were working closely with the person or those who were known to be closely associated with them should be informed sensitively. It should not be done by text and preferably not by email unless there is no other choice. There is a tendency when faced with a difficult conversation to resort to technology and communication in our work environment is largely dependent on it, but there are times when this is not appropriate - and this is one of those times.
Those members of staff who are affected should be invited into a private room where there is plenty of seating and water prepared, and where they will not be interrupted. The conversation can start with 'I know you have all worked closely with X. but I'm afraid ...' or 'I'm afraid I have just heard very sad news about X'. This is a warning shot. Rather than coming out with a blunt 'I'm afraid X has died', give them as much information about the circumstances of the death possible, to prevent speculation, confusion and rumours.
Those present should be asked whether they would like some quiet time alone to absorb the recent information. It may also be a good idea to ask if there is anyone else who should be informed, they may know of more contacts and people who will be affected not only professionally but also personally. If possible it may be worth ask the HR department for contact details of a bereavement counselor so that you are able to offer further support if needed.
There are practical matters too. Schedule a meeting to decide how to cover that person's workload for an initial two-week period, which will give breathing space in which to consider a longer-term solution.
One person should be a liaison between the workplace and the family to give updated information about the time and place of the funeral and find out whether it is appropriate to send flowers, (for some religions it is not considered to be accepted practice) and a card should be bought signed and sent to the family.
Death is never easy, but adopting some of these processes may soften the shock and decrease distress and disruption in the workplace.
M: 07919 072111
W: www.ELManagement.org
Twitter: @judyatELM