Although the workplace is considerably more informal now, most businesses still have some form of dress code. What constitutes appropriate business wear in this 21st Century informal work life we occupy? How do you align your business brand to the myriad characters of your staff responsible for delivering it? It's not always easy to get it right. In today's blog Jackie Perkins from House of Colour discusses the impact of colour.
One way you can empower yourself and your business is with colour. Colour is a fascinating study. Colours are used in healing, in the environment to influence our mood, to build rapport, to build brands. The colours we use in personal presentation also tell a story and that can have a real impact on business.
Life is like a Kaleidoscope and people sometimes fear looking like one by sticking to 'safe, don't look stupid, don't stand out', neutrals. Neutrals have their role to play, in fact, they're as critical to an outfit as foundations to a building or a good set of strategies are to a business. They're needed to provide balance, harmony, support and to let others shine - learn to incorporate colour appropriately with your neutrals and you'll never look back.
Appropriate colour doesn't mean the same thing for everyone. We're talking about identifying YOUR best colours, the ones that suit and flatter you, showing you in your best light.
The effect of colour on a person's appearance was first noticed when film technology moved from black and white to colour in the 1940s. 'Pretty Woman' is a perfect demonstration of how moving someone into more appropriate colours and styles for her enabled her to move up through levels of authority and be perceived as someone worth listening to. Vivian's (Julia Roberts) transformation from prostitute to elegant lady of luxury is highlighted through her clothes.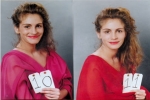 The fact that Julia Roberts went through colour tests to find the right colour for her dresses is evidence enough. Can you see how she looks uncomfortable and 'cheap' in the fuchsia, comfortable and 'expensive' in the red? This is not the same for everyone (we could have saved them the effort of testing and given alternative positive options, if only they'd asked!)
The right colour on someone can make the difference between appearing shifty, 'dodgy', unwell, cheap or healthy, vibrant, confident or sophisticated. The benefits of wearing your right colours will enable you to de-select the negative and select the positive. You can see how important that's going to be when building a trust relationship with a client.
The communication zone is essentially your facial area – the first area people look at when they see you. We start with colour because it has more impact on this zone than style. Men have less chances to use colour so it's critical to know what you're doing if you want to distinguish yourself from the crowd, appropriately and with style. Fluency in any skill enables you to identify the best way of using tools to enhance and support your goals. Considering your clothes as a tool rather than just something to wear gives you a tool kit to lift your energy, attract and enable desirable action towards success.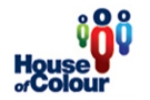 After 30 years of working with colour, empowering men and women from all walks of life, House of Colour has enough experience to know that colour, used appropriately, helps to distinguish you from the crowd in a positive way.
It's our business to help you discover how to!
T: 01923 211188
W: www.houseofcolour.co.uk