At the end of last year, about to board a plane and looking for something light to read during the flight, I idly picked up Country Walking magazine. Flicking through I came across the Walk 1000 Miles campaign and was hooked.
1000 miles – that's a big number – but when you break it down it's completely do-able (an average of three miles a day, 48 weeks a year). If you seize any opportunity to walk you'll be amazed how many miles you clock up. On Friday we were meeting friends to do a guided walk in London. We walked to the meeting place from St Pancras. It was about 2.5 miles, took about an hour, with a re-fuelling stop at Pret. London is a beautiful city to explore on foot, especially on bank holidays when it's really quiet until late morning.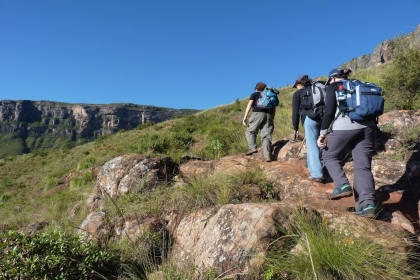 Walking has been my preferred exercise for years, but it's always been something to be fitted in round many other things, so although I walked to work when I could my husband and I only got out for an eight -ten miler "proper walk" perhaps once a month, with the occasional evening walk during the summer months.
I walk not just for exercise and fresh air, but for its calming and meditative effects, so the more I can manage the better. Aiming for 1000 miles would mean that walking would just become part of daily life. And so it has - and both Peter and I feel better and fitter for it.
Walking 1000 miles (#walk1000miles) was the brainchild of Guy Proctor, editor of Country Magazine. It has started a small revolution in walking circles and is spreading. It has been championed by BBC presenter Clare Balding and actor Brian Blessed, creating an entire community in excess of 25,000, with participants ranging in age from seven to 86.
A recent YouGov poll commissioned by Cancer Research UK found that 52 per cent of adult walk a mile or less a day – and almost a fifth walk less than a quarter of a mile. About a third said a lack of time deters them from walking, while a quarter put it down to bad weather. A separate report by Public Health England says that four in ten adults are failing to get in even a ten-minute brisk walk once a month.
But anyone can find time to get the miles in. The idea is simple: walk as often as you can, recording your progress on a fitness tracker or app, or using the magazine's progress tracker. Or use a map and a piece of string. Country Walking recommends using the OS Maps app, which is developing a mileage accumulator feature specifically designed for the challenge, called #walk1000miles.
Participants can walk for charity or for themselves, alone or with family or friends. The magazine and Facebook group are full of testimonials from people saying it has changed their lives. I can believe it. Because we are walking 1000 miles, Peter and I have decided to do a long-distance walk in September. We'll have to average 13 miles a day for eight days, with one long 20-mile walk. So, we have been training for it. At the weekend we walked 21 miles in a day - a record for us. And we didn't have blisters and weren't too stiff the next day. I thought I'd be like a board but remembering to stretch made all the difference. Yay!
Employers are having to deal with and help employees with so many issues these days – loneliness, depression, obesity to name just a few. Joining the Walk 1000 Miles programme can really help. There are meet ups which can help with loneliness and the health benefits of walking are numerous. Quite apart from the sense of achievement which can boost mood significantly, research by the University of Cambridge found that just 20 minutes walking a day can cut your risk of premature death by a third. Regular walking has been shown to be important for heart and bone health, can boost mood and may even help stave off dementia.
Do something help others do something incredible in 2019. Give it a try and let me know how you get on.
If you have HR queries and problems, get in touch!
Sign up for our free resources and free weekly tip - subscribe here.
Phone 0345 644 8955
LinkedIn Russell HR Consulting
DISCLAIMER
Although every effort has been made to ensure the accuracy of the information contained in this blog, nothing herein should be construed as giving advice and no responsibility will be taken for inaccuracies or errors.
Copyright © 2019 all rights reserved. You may copy or distribute this blog as long as this copyright notice and full information about contacting the author are attached. The author is Kate Russell of Russell HR Consulting Ltd.