We've had an unusually warm winter, but a recent cold snap has made me ferret out my favourite fuschia pink winter coat! If you're thinking about buying a new coat, House of Colour tells us what to look for.
A winter coat is a serious investment, you'll be wearing it more than anything else in your wardrobe as the weather gets colder. Worn over every outfit, it has to work from top to toe. The most important things your winter coat needs to do are:
keep you warm and dry;
fit perfectly and be comfortable;
look fabulous.
How much should I spend?
Go for the maximum you can afford - think about the cost per wear.
This coat will be the first thing that people notice about you when you arrive; get it right and you're guaranteed to create the right impression, no matter what the weather throws at you. If you can, it's worth spending a few hundred pounds.
Trendy or classic?
It's best to avoid high fashion. A bang-on-trend coat may be tempting but a classic coat never goes out of style and can be trended up - a scarf, brooch, boots or an amazing hat. Accessorising is an easy way to change the look of your coat in an instant and keep your look interesting.
Before you start shopping...
Think carefully about how you'll be wearing your winter coat; whether you're on the school run, clambering on and off buses or the tube, it's best to avoid too much length. A sweeping ankle-length number can look gorgeously elegant but escalators will eat the hem - and you'll spend all winter tripping over it.
If you do a lot of walking, going outdoors to indoors and back again, it's easy to get too hot. Look out for a lightweight coat with a cashmere/wool mix. It will be warm without the bulk and weight of a 100% wool coat. Remember pockets - when it's cold, they'll be your friends - and practically speaking, you'll have somewhere to put your gloves.
Which coat shape will suit me?


Your new coat needs to be a perfect fit for your body architecture. This has nothing to do with your weight - it's about your individual frame and silhouette.
A longer tailored coat will look great if you have a tall, narrow frame. (See left)
Belted coats are curve-creating, but they'll also flatter the hourglass figure, especially those with a longer body. (See right)


If you're on the smaller side, try a knee length overcoat or a shorter hem. Make sure the sleeves and hem are the right length so it doesn't overwhelm you.(See left)
Larger frames suit smooth fabrics and a coat style with lots of movement. (See right)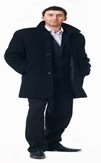 Double or single breasted is determined by your individual style. Men must remember that while the length can vary it should be long enough to cover your suit jacket.
What about colour?

Go for your best 'wow' neutral colour. It will give you a radiant glow and your new coat will go with absolutely everything in your wardrobe.
Women, you have a choice here, you don't have to stick to a single shade. Once you know the colours that light up your face, don't be afraid of patterned fabrics that include a few of them.
Try it on
In the end, it all boils down to the coat's personality - it needs to match your own. You can learn how to do this for yourself and then once you've learnt what you're looking for, the only real way to make sure it's truly you is to try it on!
Remember, you'll be wearing bulky woollens or a jacket underneath your coat, so make sure it's roomy enough to accommodate them - especially in the sleeves and across the shoulders. Stretch up, crouch down, walk about - do anything necessary to make sure it's a perfect fit.
With over 30 years of experience, helping people to invest in themselves, more information can be found at House of Colour