Thanks to Juliet Martin, who has submitted today's blog on behalf of Regus, for this piece giving some guidance on outsourcing the HR function.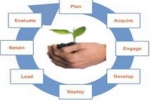 Small companies with tight profit margins often find it difficult to justify the cost of hiring full-time HR specialists but still have a need for their expertise. One possible solution that works well for many firms in this situation is to outsource human resources functions to a consultancy. The benefits of this approach include expert administration and advice without the costs associated with full-time HR employees and there are very few, if any, drawbacks.
However, it is not wise to enter into such an arrangement without first asking yourself a number of penetrating questions. Below is a short list of what are considered to be the most important questions.
What experience do the consultants have with companies in the same line of business as yours? While many HR principles can be applied to almost all industries, some are specific to certain areas, so it is a good idea to make sure that the consultancy you choose has relevant experience.
Can your consultants help your firm save money? While securing the services of the most suitable candidates for vacancies should be a priority, cost will always come a close second. An HR consultancy that can understand the benefits of hiring a virtual assistant for firms that cannot justify the cost of a full-time receptionist will be easier to work with than one that believes the best way to solve any problem is through the liberal application of funds.
Are you ready to relinquish control? This question is most pertinent to small business owners that are used to making all the decisions by themselves. While you may be able to see the benefits of outsourcing HR functions to a third party, handing over responsibility for recruiting new staff members could be easier said than done. If you have any doubts about your ability to hand over this responsibility, you need to address them before going any further.
How do existing employees feel about your plans? Employees that have been with you for a number of years may object to being disciplined or managed by an outside company and this is something that you will need to resolve before putting your plans into action. Entrepreneurs that know how to keep their workers happy are usually more successful than those who pay little or no attention to such matters. Make sure your business does not fall by the wayside, by considering the happiness of your employees whenever you take an important decision.
Will the consultancy you wish to deal with still be there to offer help and advice in five or ten years' time? While it may seem a little early to be thinking about such things, your outsourcing plans will go more smoothly if you consider the long-term implications of what you are doing and make sure that your business partner will be by your side for the foreseeable future.
Ask the prospective outsourced business partner the following questions:
How does the service work? What does it include?
Will the prospective provider educate your managers? How? How often?
Do they offer performance guarantees and what do they cover?
Do they have a guarantee of satisfaction?
What hours will they be available by phone, e-mail, or instant chat? What is their standard for returning phone calls?
What options will you have for reaching them in an emergency such as an on-the-job injury?
What are their upfront and ongoing fees and how are they determined?
What experience do they have with similar size companies in your industry?
What is their client retention rate?
How long have they been in business?
What makes them better than other outsourced HR companies?
What is their track record on tribunal cases?
What are their cancellation terms? (some of the large companies tie you in for five years!)
Good employees are one of the most valuable resources that your company has. Make sure that the needs both of the company and its employees are considered when outsourcing HR functions and that the advice and support given is expert, practical and timely.
Regus was established in 1989. It is the largest global provider of flexible workspaces and business solutions.
T: 0845 300 3585
W: www.regus.co.uk