Christmas is just round the corner and it seems that everyone is getting into the festive mood while clutching a fistful of Kleenex and gargling Lemsip down on a regular basis.
With the onset of winter the incidence of coughs, colds and flu increases. The thought that bacteria from someone else's nose or mouth gets into our bodies - usually via our own mouths - and make us ill is really quite disgusting.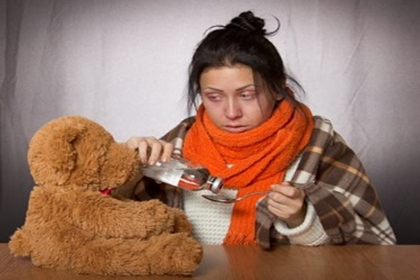 It's all about good hygiene. On one occasion I was talking to a school client who said that the former head got all staff and children together at the start of every winter and they talked about hygiene and handwashing and did a handwashing routine together. Everyone thought it was quaint and rather out of date. So when a new head arrived this little exercise didn't take place – and the consequence was for the first time they had so many children and staff off that they could barely function
While you probably know all of this, here's a reminder anyway!
Provide a clean and safe environment.
Encourage employees to practice good hand hygiene. Wash hands in hot water and with good quality soap for approximately 30 seconds. Dry your hands well after washing.
Clear and clean your desk at least every week. Research shows that women spend more time at their desk than men and many works in a somewhat cluttered state. As well as work stuff, lunch, chocolate, magazines, photographs, plants and even candles are all commonly found on our desks. It's not a good idea. They are a breeding ground for bacteria, particularly if you eat at your desk. Clean desk top, phones, desk, keyboards, mice, desk drawer handles every day
Don't share pens! People chew them. Need I say more?
Clean shared contact points and communal areas regularly. As part of your hygiene drive disinfect things like the office fridge, kitchen taps, light switches, the copy machine, kettle, coffee pot and door handles to reduce germs.
Make hand sanitisers available. The most effective are those that are not alcohol based, and which form a long-lasting barrier to bugs.
Don't sneeze over other people, your hands or your desk. It's fairly obvious really. Choose your elbow or a tissue to sneeze or cough into. By avoiding your hands, you will minimise the potential spread of germs and being a larger surface area, your elbow may absorb more germs than your hands.
If you notice someone sneezing or coughing, offer them the sanitizer as soon as they are finished.
I hope you have a happy and healthy Christmas and New Year. The next blog will be on 10th January 2018.
If you need help sorting out HR problems, give us a call on 01908 262628.
Sign up for our free resources and free weekly tip - subscribe here.
For help resolving all your HR queries and problems get in touch!
Phone 0345 644 8955
LinkedIn Russell HR Consulting
DISCLAIMER
Although every effort has been made to ensure the accuracy of the information contained in this blog, nothing herein should be construed as giving advice and no responsibility will be taken for inaccuracies or errors.
Copyright © 2017 all rights reserved. You may copy or distribute this blog as long as this copyright notice and full information about contacting the author are attached. The author is Kate Russell of Russell HR Consulting Ltd.