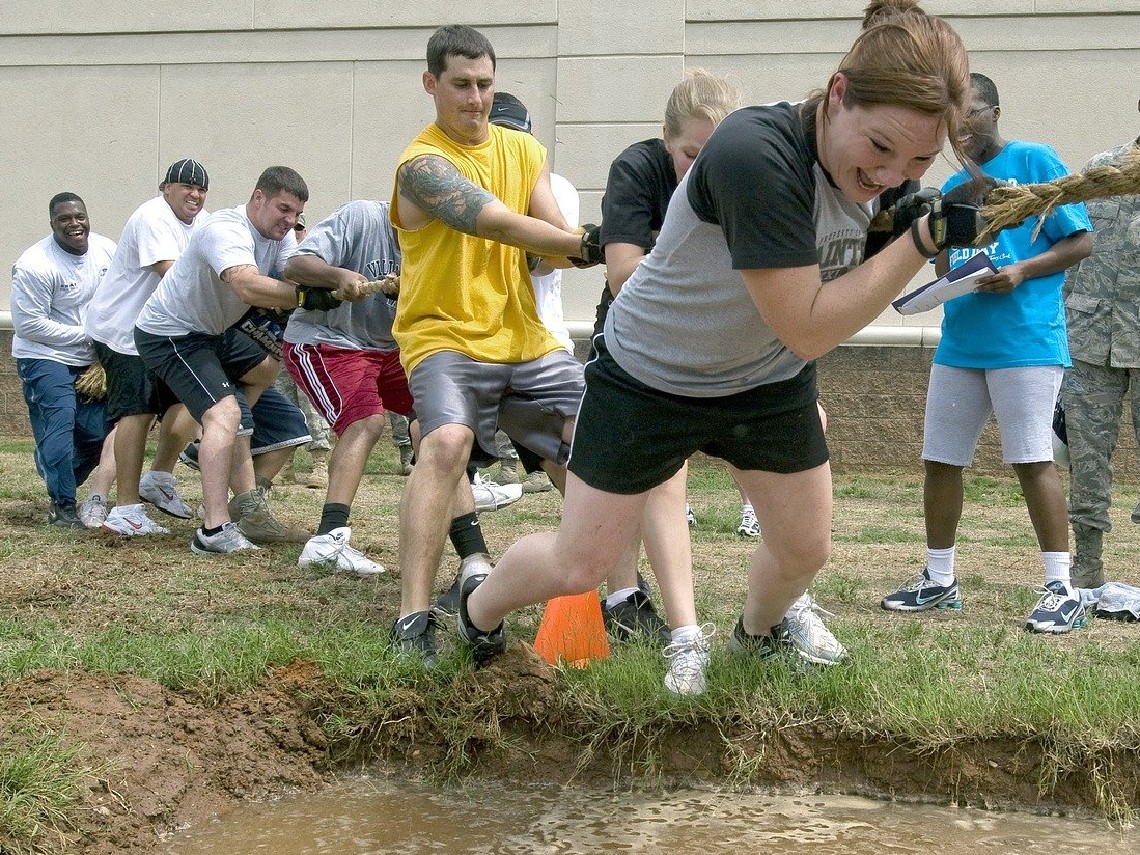 Team building is about helping your team develop into a unified group. It is an opportunity to gather your people in one place and give them a reason to interact with each other in a non-work way. At this very dull, dreary – not to mention windy and wet – time of year, start planning some fun team building activities for all of you to look forward to. NB The key here is to work with your team to decide what to do. Don't just tell them what you think they'd like to do!
Train for a Charity Sport Event
There's nothing quite like training for an event for your favourite charity to get people bonding as a team and having some fun together. It could be a long-distance cycle event, running or even midnight walks. It brings out the competitive and motivates people to get a bit fitter. Win-win-win!
Volunteer
Giving time to support a good cause isn't just good for the soul; it's also a great way for your team members to bond. Place-based volunteering include things like volunteering at a local soup kitchen, local park, National Trust establishment, reading with children in schools or care home. Skill-based volunteering is a great way to stretch your employees' expertise: It's when your team members volunteer their time and use their professional skills to help the charity. Remember employees may have to get DBS checks for some activities.
Mystery Dinner
Send employees from different teams within your company to dinner somewhere in your city (or at someone's house). The dinner is hosted by one of your company's leaders and paid for by the company. These dinners allow random groups of people from the same company to spend an evening chock full of good food and conversation together. What makes them a mystery dinner? The only thing participants should know about the dinner ahead of time is the date and time. Then, on the afternoon the dinner is supposed to take place, send each group an email with the name of the restaurant they're going to and who they'll be going with so they can arrange transport.
Go Kayaking/Canoeing
Trying not to end up in the water encourages communication (some of which may be faintly ripe!). Many public rivers and ponds have boat houses where you can rent kayaks and canoes -- and you can encourage people to rent multi-person ones and pair up with people they don't usually work with.
Trampoline Parks
Take your team to a trampoline park for some energetic jumping and a chance to work off the day's stress. Many towns have local places with trampoline activities.
Do Something Touristy
Pick an interesting tourist destination and go scouting round as a team. It'll be fun to laugh at how silly it feels to be a tourist in your own city, and you might even learn something new.
Race Karts
Nothing like a little competition to bond a group together. An adrenaline-pumping event like kart racing is a great way to get employees to interact with one another in a totally new and fun way. Just make sure everyone pays attention during the safety briefing.
Take a Painting Class
If you're looking for a slightly more relaxing activity, take a group painting class. It's a great way to let your team members unwind, catch up over some drinks, and express their creativity.
Go on a Scavenger Hunt
Find a beautiful day, break everyone out into groups, and have a scavenger hunt around the city. You can organize one yourself, or use an app. Your team will feel nice and refreshed after some fresh air and fun challenges. Be sure to take lots of silly pictures -- you can even have a slideshow when everyone regroups at the end.
Have a Cook-Off Competition
Here's a culinary team-building activity that could end in dessert or disaster -- in a fun way. Creating new dishes together requires creativity and will require everyone to put their team and leadership skills into action. Divide your team into smaller teams, pick a food category, and challenge each team to whip up something delicious. The category could be anything from ice cream to salsa to pizza.
Hold a Board Game Tournament
Here's one way to spark your team members' competitive sides without having to leave the office. Organise a team-wide board game tournament. If your team is a large one, it may be easiest to pick a single game, and then have people sign up for specific time slots where they're free to leave their desks and spend some time playing the game. Some great games with reasonable play times include Boggle, Jenga, or even games using playing cards. Incentivise with prizes for first, second, and third place.
There are so many benefits to successful team building activities - getting to know each other, improving morale and engagement, making employees feel valued, having fun, developing trust and collaboration and of course improving teamwork.
***
If you're an employer with HR queries and problems, get in touch!
Sign up for our free resources and free weekly tip -
subscribe here
.
Phone 0345 644 8955
LinkedIn
Russell HR Consulting
DISCLAIMER
Although every effort has been made to ensure the accuracy of the information contained in this blog, nothing herein should be construed as giving advice and no responsibility will be taken for inaccuracies or errors.
Copyright © 2020 all rights reserved. You may copy or distribute this blog as long as this copyright notice and full information about contacting the author are attached. The author is Kate Russell of Russell HR Consulting Ltd.