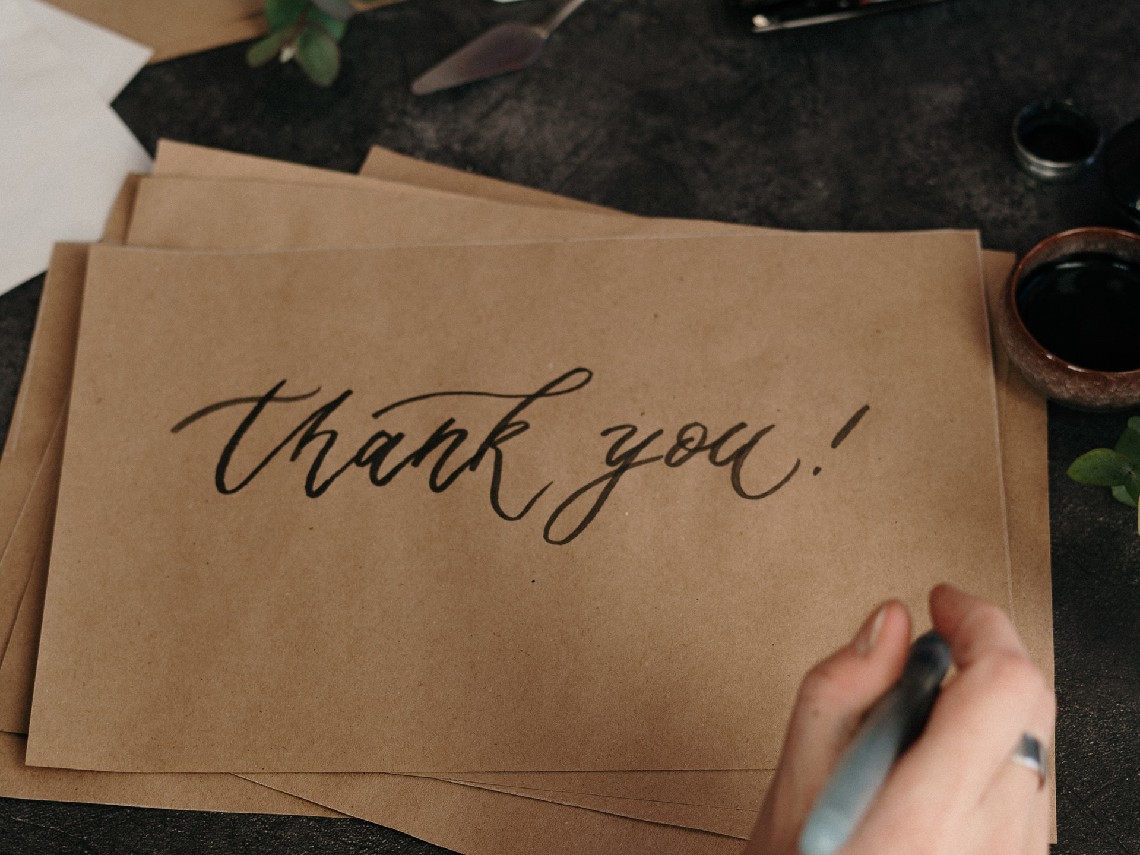 I've done a few favours for people recently. Some of them thanked me, more of them didn't. It's interesting how few people express gratitude, even when you've helped them out of a hole. Thanking people for their contribution to your business is not just courteous and appropriate, it can also have a remarkable impact.
Most people really do want to hear someone thank us for the things that we do - even if it's something that we're supposed to be doing anyway. Saying "thank you" goes a long way toward improving employees' view of the workplace. Setting out the reason for your gratitude is even more powerful. Thus, saying, "Thank you for working last weekend," recognises an individual's action. But adding, "You really helped us meet this short deadline," is even more powerful because it emphasises the reason the action was important and reinforces the positive behaviours you want to encourage in your business.
There is strong link between employees' performance and managers who regularly recognise their team. In one survey 37% of employees reported that more personal recognition would encourage them to consistently deliver higher performance. In fact, the study found that appreciation is the single most important driver of superior work performance and employees who work in a culture that promotes gratitude also report feeling greater job satisfaction and experiencing overall well-being.

How can you develop a culture of gratitude in your workplace?

Managers should be role models. If you don't buy in to building a culture of gratitude, you can't expect employees to do so either. One way in which you can show your commitment is by taking time to give employees a genuine and personal thank you. It can be face to face, by phone, a handwritten note, or a thank you posted on social media.
Tailor the approach you take to the individual. Some people enjoy being thanked in front of their colleagues, while others would rather you quietly share your thoughts privately.
Remember to say why you are grateful. For people to feel truly appreciated, they need to know that you understand the depths of their effort and the extent of the sacrifices they have made. Articulate insight to the ways in which their efforts have been extraordinary.
The earlier you say thank you, the more able people are to link their experiences with your feedback. It's especially important for the younger employees to receive regular and immediate feedback that allows them to feel a sense of not only achievement, but also progress.
It's not just managers who can boost job satisfaction by regularly expressing appreciation. Team members should also be encouraged to express thanks to their colleagues.
Encourage a culture of gratitude, making time and space for it. You could create an appreciation wall or a dedicated Slack channel for employees to recognise others and give kudos. Create social proof that encourages other colleagues to do the same.
Emphasise the importance of expressing thanks and appreciation at work. Cultivating a culture of gratitude won't just boost employees' well-being and performance and create a much pleasanter workplace.
***
If you have HR queries and problems, get in touch!

Sign up for our free resources and free weekly tip - subscribe here.

Phone 0345 644 8955
LinkedIn Russell HR Consulting

DISCLAIMER

Although every effort has been made to ensure the accuracy of the information contained in this blog, nothing herein should be construed as giving advice and no responsibility will be taken for inaccuracies or errors.

Copyright © 2020 all rights reserved. You may copy or distribute this blog as long as this copyright notice and full information about contacting the author are attached. The author is Kate Russell of Russell HR Consulting Ltd.