When we recruit for Trainee HR Consultants we look for someone who has some business experience and basic skills allowing us to mould them into a HR consultant with a business way of thinking. One way of finding candidates has been via colleges and universities. Priya Chauhan, Recruitment Service Manager at the University of Bedfordshire tells us why university recruitment services are beneficial to employers.
My role at the University is to help students and graduates into employment. This is carried out by interacting with different businesses across the region and providing a professional recruitment service. Each business is given their own account manager as a point of contact. The account manager will help each business with advertising, applicant screening, shortlisting and arranging interviews, including providing interview facilities.
So far, Recruitment Services has worked with many organisations including; EasyJet, AiSolve, RMG Networks and Arriva. Amanda Harrison (HRBP, UK) from Arriva successfully recruited a graduate from the University and said: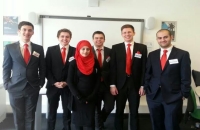 "The team at the University were superb in coming out to see me about Arriva and the position before advertising and short listing candidates. The whole process was dealt with efficiently and professionally. The quality of candidates was great. I would certainly recommend University of Bedfordshire to other organisations and will utilise their services again"
Our students and graduates come from various subject areas including, IT, Business, Marketing, Psychology. They are extremely talented as demonstrated recently when a group of students participated in a national competition at Lancaster University. The group were required to pitch their ideas and solutions to a practical business problem. They presented to a panel of judges including IBM and Deloitte. The group delivered an excellent presentation and this was one of my proudest moments in my career!
Both local and national businesses should be aware that not only can they help students /graduates by offering employment but there are other ways too. Organisations can contribute by adding to curriculum development, participating in practice weeks and being on advisory boards for business societies such as FLUX and Enactus.
We offer a professional recruitment service that is free of charge to employers looking to recruit whilst also being a great opportunity for students. We help employers to fill full time positions, internships and work experience roles, assisting employers through the whole recruitment process. Our service includes:
Searching our database of available candidates
Identifying those with the skills that you require
Advertising and pre-screening applicants on your behalf
Short-listing those which best meet your job specification
Providing interview facilities on campus
Arranging telephone / online interviews if required
The Careers Service can help you in a number of ways. If you are a prospective student, current student or a graduate you will find that we have a range of services to help you with your career planning and progression. See our Get Advice section for further details of the services we offer and how to access them. University staff are also able to use our services in respect of their own personal career development.
The Careers Service is a member of the Association of Graduate Careers Advisory Services (AGCAS). We hold Matrix accreditation for the delivery of Information, Advice and Guidance (IAG) services to national quality standards.
The service is FREE. To advertise your vacancies simply contact:
Priya Chauhan
Recruitment Services Manager
Careers and Recruitment Services
University of Bedfordshire
T: +44 (0)1582 489293
E: recruit@beds.ac.uk
Alternatively, you can upload your own vacancies onto our job board at: employer.beds.prospects.ac.uk
Twitter: @ubcareers
Facebook: www.facebook.com/unibeds