An AED may not seem like an essential piece of office kit, until you need it. Niamh Spence from Defibshop explains why your workplace should be equipped for a medical emergency.
When you're stocking up on office supplies and replenishing the stationery cupboard, investing in a piece of life-saving medical equipment might not be at the top of the list. Yet with over 60,000 sudden cardiac arrests (SCAs) occurring outside of hospital every year it's never been more important to be prepared, and this includes in your workplace. An automated external defibrillator (AED) is a vital piece of life-saving equipment that no workplace should be without. With the average emergency service response time to a cardiac incident now standing at eleven minutes, it's important that your workplace knows how to act quickly when a medical emergency such as a cardiac arrest occurs.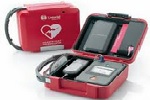 An AED is a small, lightweight machine that analyses a person's heart rhythm and can recognise an irregular beat. This irregular rhythm can be either ventricular fibrillation (VF) or ventricular tachycardia (VT),also known as a Sudden Cardiac Arrest (SCA),and can be fatal.
These life saving devices were originally only used by healthcare professionals such as paramedics, nurses and doctors, but not anymore. More and more defibrillators are now available in public places, and it is important that your workplace has one. AEDs are designed to be easy to use, therefore enabling more people in the workplace to use them should the occasion arise.
A SCA can happen to anyone regardless of their age, lifestyle or gender. Without effective treatment, cardiac arrests can kill and it's important to act quickly and administer the correct medical help should someone in your workplace suffer from one.
The only effective treatment for someone suffering a cardiac arrest is the combination of CPR and the use of a defibrillator. The defibrillator will deliver an electrical shock to stop the irregular rhythm and allow the heart to return to a natural one. For every minute that passes without the use of a defibrillator the victim's survival rate will decrease, and by the time an ambulance or medical attention has arrived their chances of survival will have dropped dramatically.
It's important to act quickly and efficiently, and the AED will guide you through the process until medical help can reach you.
An AED is designed to be used by those first on the scene of a medical emergency, and with easy to follow instructions it can even be used by those with minimal first aid training. Most defibrillators provide aural or pictorial instructions to guide the user through the process. Once the electrode pads are on the victim's chest, the AED will assess their heart rhythm and will only shock if it detects either VT or VF. You should also call 999 as soon as a cardiac arrest is suspected, to ensure medical support is on the way.
Whilst anyone can use an AED and it's important to act quickly, defibrillator training is highly recommended. Expert run training sessions will teach you and your staff exactly how an AED works, how to use one and offer the chance to practise the full rescue process (including CPR),ensuring that everyone feels confident in their ability to act quickly in an emergency.
Starting at around £900, an AED might not be a cheap addition to your workplace but it is a worthwhile investment. Not having one on your business premises could result in a devastating loss of a life if a cardiac incident occurs and the emergency services can't reach you in time.
Whilst options such as a new coffee machine or a flat screen TV for reception might seem more exciting, it's important to remember the potential consequences of not having a defibrillator to hand.
Many defibrillators are now available with finance options such as low repayments and fixed rates. This means that you aren't limited by budget when choosing which model of AED is suitable for your workplace.
When choosing an AED for your office it's important to ensure that budget is not the only deciding factor; choose the defibrillator that's right for your workplace and your needs.
The life-saving benefits of having an AED in the workplace.
Whilst defibrillators have been proven in millions of cases to be instrumental in saving lives, only 49 per cent of businesses currently have one on their premises. When everyone is at risk of a cardiac arrest regardless of age or lifestyle, it is important that your workplace is prepared for such a life-threatening incident and that your staff feel confident in administering CPR and using a defibrillator in an emergency situation.
With every minute crucial to saving a life, an AED is a vital piece of kit that your workplace can't afford to be without.
Niamh Spence is a content writer for www.defibshop.co.uk – the largest independent supplier of automated external defibrillators (AEDs) in the UK.