As the Christmas party season gets under way, the Police step up their testing processes. Despite all the warnings every year many drivers still overdo the alcohol and all too often are caught still under the influence the morning after the night before. In September this year PC Nicola Townsend was found to have driven to work with 70mg of alcohol in 100ml of breath. The legal limit is 35mg. She pleaded guilty to drink driving at Basingstoke Magistrates' Court and was sentenced to an 18- month driving ban, fined £550 and ordered to pay £235 costs and a £55 victim surcharge earlier today.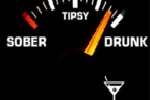 According to figures released by the price comparison website MoneySuperMarket this week, manual workers in the building industry appear to have the worst records for drink- and drug-driving convictions. Scaffolders had the highest offending rate (5.7 per 1,000 drivers). Other types of worker with high rates of drink- and drug-driving convictions were plasterers, ground workers, roofers, labourers, soldiers, road workers, bricklayers and fitters. The statistics were compiled from the website's own records, a data base of around 11 million.
The lowest rates of admitted convictions were occupational therapists, typists, health visitors, police officers, nursery workers, clerks, taxi drivers, vets, building society clerks and driving instructors.
Disqualification from driving is mandatory in the case of driving or attempting to drive when under the influence, but even if an employee drives as part of his role, it will not be an automatically fair reason for dismissal.
What do you do if one of your employees has been caught driving with an illegal level of alcohol in the blood? Some employment contracts stipulate that employees tell their employer straight away about a drink driving conviction, while others remain silent on the matter.
Pending trial the employee can continue to drive, but if he is driving on company insurance, you will have to tell your insurance company to establish whether it will allow the employee to continue to drive on the policy.
While it's possible to dismiss an employee who is facing or has a drink driving conviction, the fairness of such a dismissal will depend on a variety of factors, for example, the nature of the job. There would be no need to dismiss a worker who does not drive for work purposes and is able to get to and from work by alternative means than a car. If driving is only a small part of the role, it you may be able to make alternative arrangements to accommodate the employee during the period of disqualification.
Even if a worker drives for work, before taking a decision to dismiss you would have to consider whether he can do his job using alternative transport or can be deployed elsewhere in the business for the duration of the ban. For example, I have known field sales representatives make an agreement with their employer to allow a family member of the employee drive him to his appointments rather than lose his job. Any additional costs were met by the employee and regular checks were made by the employer to ensure the employee was sticking to the arrangement. In other cases, employees have been deployed to another role or given a desk job for the duration.
But it may not be possible to do that and if not, you will have to invoke the formal discipline procedure. The usual rules apply. Investigate to establish the facts and if there is no reasonable alternative to a driving role, hold a disciplinary hearing to consider the evidence. If you have to dismiss, it will be a capability matter – loss of an essential qualification.
If you need advice on dealing with drivers who are at risk of losing their licence or any other HR matter, get in touch.
Signed up for our free resources yet? Visit this link.
Russell HR Consulting provides expert knowledge in HR solutions, employment law training and HR tools and resources to businesses across the UK.
Subscribe to our free monthly HR newsletter. Russell HR Consulting employment law newsletters are emailed automatically to our ever-growing number of subscribers every month.