The UK is alleged to be a nation of animal lovers. You name it we've got it as a pet and if your staff could bring Tiddles or Rover to work I'm sure they would.
At Russell HR we do like animals. I draw the line at the wasps and ants that occasionally invade Clare Stables and repel them, but as general rule we are fairly tolerant. From time to time we mention our three honorary team members, Stan and Wiggins (the cats) and Baxter the Border Terrier. Baxter occasionally visits and gets lots of attention but he's never in the office all day. Needless to say the cats stay in their respective homes waiting for the staff to come back and look after them.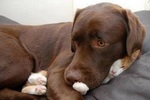 When I worked from home in the early days of the business I was regularly accompanied by assorted pets. One cat used to sleep behind me on my office chair. I'd be leaning forward typing or talking on the phone and he would sneak up without me noticing. Eventually I would lean backwards squashing a fat furry little body and getting a groan of complaint.
I like the idea of having pets in the working environment, but it doesn't suit everyone. Some of our clients do this. I can think of one place where the directors and some managers have brought their dogs to work ever since the business started. The head office usually has several dogs milling round. Their office is deep in the country and there are masses of room for the dogs to run round safely. The downside is mud everywhere (luckily they are a cleaning company!) and while I like dogs I went to the site with one of my team and she shrank back nervously as a large but friendly Retriever came up to enquire politely if we had any food because he hadn't been fed for oh! Minutes!
A survey conducted by Banfield Pet Hospital in March 2016 found that having dogs in the workplace makes for a happy office. The survey spoke to 200 HR professionals and 1,000 employees from a number of different industries and company sizes. They were all screened on their thoughts surrounding pet-friendly workplaces. The survey concluded that 70% of those surveyed agreed that pets in the workplace would improve working conditions. The survey also found that pet-friendly workplaces are viewed as 'highly positive' and 'boost morale'. It even found that allowing employees to bring their pets to work could contribute to talent retention and would provide employers with a competitive edge in the recruitment process.
Many new businesses are looking for ways to make their workplaces fun and more attractive to potential recruits. Some have table tennis others have Friday night drinks and some are now allowing employees to bring pets to work. Interesting idea, though it could well be a bit fraught as Tiddles swipes Rover's eye accompanied by a feline swearing fit and vet's charges are incurred. Who'll foot the bill? What happens if the owner isn't de-fleaing or worming the pets as diligently as they should? What happens if Rover chews the wiring or pees in the wrong place?
I don't wish to rain on anyone's pooch parade. Like everything else, there are a number of pros and cons to having dogs in the workplace and it is often dependent on your business and what best suits you and your clients.
Having a well-trained dog around the office can be a benefit. It may encourage employees to get up and move about and may encourage team members to take some exercise. The presence of dog can break the tension, reduce stress and generate good morale.
But not everyone likes dogs and around 15% of the UK population is allergic to them. Some dogs would not be suitable in your work environment and a badly trained dog can cause havoc.
If you are considering introducing a dog into the workplace, make sure that you canvas the thoughts of your team and whether or not they would be happy to have a dog in the office. If you allow one person to bring a dog in don't be surprised if you get other requests from other team members.
If you want to test the water take a look at bring your dog to work day on Friday 24th June 2016 and raise some money for charity. https://bringyourdogtoworkday.co.uk/
We deal with the good, the bad and the ugly of HR. If you need help resolving problems with working dogs or any other HR issues, give us a call on 01908 262628.
Signed up for our free resources and free weekly tip yet? Register and subscribe here.
Russell HR Consulting provides expert knowledge in HR solutions, employment law training and HR tools and resources to businesses across the UK.
Subscribe to our free monthly HR newsletter. Russell HR Consulting employment law newsletters are emailed automatically to our ever-growing number of subscribers every month.