Over the last week we have heard that Chelsea boss Jose Mourinho may be the subject of an individual legal claim from former Chelsea team doctor Eva Carneiro.
Dr Carneiro was the former doctor of Chelsea football club. During a match against Swansea at Stamford Bridge on 8th August Dr Carneiro went to the aid of Eden Hazard after the referee had called for treatment. The match ended in a two-all draw. Following the match club manager Jose Mourinho branded his medical staff 'impulsive and naïve' as treating Mr Hazard meant that Chelsea were temporarily down to nine men. Things got worse when it was announced a few days later that her role would be changing and her responsibilities were reduced, limiting her to the team's training base and not attending any matches in the near future.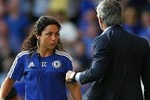 FIFA's chief medical officer defended Dr Carneiro's actions saying she had no choice but to follow the referee's instruction and go onto the pitch. Dr Carneiro parted company with Chelsea in September with the Football Medical Association giving a statement that they would continue to support her on a professional level.
On 30th September the FA confirmed that Mr Mourinho would face no action over allegations of discriminatory comments made to Dr Carneiro on 8th August. On 2nd October she gave a statement saying that she had not been requested by the FA to give a statement about Mr Mourinho's remarks and this was also the case after she was the victim of sexist abuse at West Ham in March. After failing to agree to a settlement Dr Carneiro's lawyers served notice on the club of her intention to seek a claim of constructive unfair dismissal.
Constructive unfair dismissal arises when an employee feels that he can no longer remain in the job because something has broken down the mutual trust and confidence and the employer has therefore fundamentally breached the employment contract. The employee can then take the decision to resign employment in response to the breach. In Dr Carneiro's case she is also claiming Mr Mourinho made discriminatory comments and her role was reduced without her agreement.
According to Dr Carneiro, there was no proper investigation into Mr Mourinho's actions as no one had actually asked for her version of events. Without a proper investigation any dismissal is potentially an unfair one. It comes across as though Mr Mourinho's actions are somewhat acceptable because it happened on a football pitch. No matter what the place of work an employee has the right not to be subject to unwanted, offensive attention, violating one's dignity or creating a hostile and degrading environment because of a protected characteristic. This behaviour amounts to harassment and is unlawful in the UK.
There are two sides to every story but Mr Mourinho isn't known for his softly, softly approach either on or off the pitch. Although legal action as only just started, it is thought probable that Chelsea will settle before the matter reaches tribunal.
Get your HR Russelled and improve your HR standards and commercial performance today!
For advice on all HR matters, contact us.
Signed up for our free HR resources yet?
Russell HR Consulting provides expert knowledge in HR solutions, employment law training and HR tools and resources to businesses across the UK.
Subscribe to our free monthly HR newsletter. Russell HR Consulting employment law newsletters are emailed automatically to our ever-growing number of subscribers every month.