Sport and drug taking (whether deliberately or inadvertently in a supplement) seem to be inextricably entwined. Last year the Lance Armstrong scandal broke which disclosed that through a clever manipulation, Armstrong managed to keep his use performance enhancing drugs undercover. This week the news broke that two of the biggest names in sprinting have failed drug tests. The USA's Tyson Gay, the fastest man in the world this year, (100 m in 9.75 seconds) tested positive for an unidentified substance in a routine test as did former world record-holder Asafa Powell. Investigations are ongoing.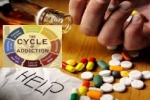 In the last two weeks we've been hearing stories about the unfortunate death of Cory Monteith, the star of hit US highschool TV show ''Glee''. He was found dead in a hotel room in Vancouver. The police say that they're satisfied that the reason for his death was a heroin and alcohol overdose. The news reported that he had addiction problems in the past and only recently left rehab.
Drugs are a great leveler. It doesn't matter if you're young or old, rich or poor, the use of certain drugs put your health and ability to function coherently at risk. While news of the rich and famous tends to make the headline, there are hundreds of less famous but equally sad cases. What happens when drugs issues come into the workplace? How do employers deal with staff with addictions? Many companies have anti drinking and drugs usage policies and some will go further and build in drug and alcohol testing.
We come across employees struggling with an alcohol addiction relatively often. Addiction of any sort is a challenge to manage, but the consequences of not doing so are unthinkable. While it is not an employers' role to rescue people who are not in control of their life and jeopardise not only their career but also private life. But a little help may save the staff member and that can be good for business too. Sometimes it takes only an informal conversation with an individual. In other cases when addiction is advanced and much deeper it might be a good idea to direct them towards organisations dealing with certain addictions. The more practical support you can provide the better, even if it's just picking up the phone and making the appointment. Regular well being meetings can also help to improve somebody's situation and support their recovery.
Approaching someone about an alcohol or drug problem is not easy for any manager or colleague. Here are some steps in tackling this sensitive matter.
Early recognition.
Explain that addiction is a disease, not a moral weakness or a personality disorder.
Early intervention.
Practical support and guidance.
Present the facts.
Employees should be made aware of the effects drug taking has on others.
Don't ignore the problem. It will only get worse. There are many free and confidential help services which you and your troubled employee can find suitable. They help employers in handling problems in the workplace such as staff alcoholism, drug addiction or other self-destructive behaviours. You can also give them details of the Company doctor, nearby GP or rehab clinics.
The sad death of Cory Monteith, who had absolutely everything to live for, reminds us that drugs equal wasted lives and wasted opportunities. Let's take the steps we can, to stop it in the workplace.
Russell HR Consulting provides expert knowledge in HR solutions, employment law training and HR tools and resources to businesses across the UK.
Subscribe to our free monthly HR newsletter. Russell HR Consulting employment law newsletters are emailed automatically to our ever-growing number of subscribers every month.