On ITV's Daybreak last week Stella English, infamous for winning The Apprentice in 2010, then unsuccessfully taking Lord Sugar to Employment Tribunal for unfair constructive dismissal, was explaining how difficult it has all been for her and how she has lost everything.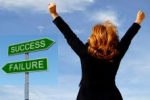 When asked why she had resigned from the first, then a second job that had been provided for her within Lord Sugar's organisations, she said it was because she knew there was no room for development, she was an "overpaid lackey", and colleagues, including her boss, had shunned her because she had won the role through the television series.
Of course colleagues were going to be jealous, but she had earned and was put in a top management position within the organisation. It was up to her to prove her worth. After all she was specifically warned by Lord Sugar that; "the other staff will initially assume you are a waste of space because of The Apprentice. Hence earn your wings; which means everyone can see you have got the plot and making decisions that are right."
Did she even try to build relations with her colleagues, or did she think that the fame through the telly was enough to afford her respect within the role. I'm not even sure what she was making such a fuss about either. According to the transcript of the tribunal she had been given a team of three. Their remit was to, "pick up every aspect of the business". The company she would be working for was bleeding money and that she should use her skills to institute a change in culture and practices that would improve matters. Sounds like a potentially full and interesting role, so how was this not being given a job?
Leaning and development is vital in any organisation. The business has a responsibility to provide information and tools to enable employees to do their job efficiently and effectively. That said, you can lead a horse to water, but you can't make it drink. Employers can provide training and development opportunities, but if employees resolutely refuse to take advantage of it, like Ms English, it can't be rammed into them willy-nilly.
I know someone who works for a company where emphasis of responsibility is put onto the employee, 'this is your job, your company, your development......', and they are expected during one to ones and their annual performance development review to suggest to their manager what development they think they need and how they can get it.
It's true that employees have to be actively involved. Passive development is a contradiction terms. But this company may going a bit too far in the active direction. Stella English has fouled up the opportunity of a life time and is now compounding it by blaming Lord Sugar and touting her foolishness round a media circus for everyone to see.
Development is a two way thing, employees and employees must work to discuss their development needs against the job description (essential for staff to know exactly what their job is),and their skills set and see where the gaps are and how they can be filled and then to identify or create and provide learning opportunities. And employees must action them.
Let me end by quoting the wonder, if highly acerbic Dorothy Parker. "You can take a horticulture but you can't make her think". In other words, Ms English, wake up to the facts and take responsibility for yourself.
We can help you with your employee skills analysis. Get in touch.
Russell HR Consulting provides expert knowledge in HR solutions, employment law training and HR tools and resources to businesses across the UK.
Subscribe to our free monthly HR newsletter. Russell HR Consulting employment law newsletters are emailed automatically to our ever-growing number of subscribers every month.