Around 93% of the UK population own a mobile phone. 66% of those phones are classed as smart phones. That's a lot of people, a lot of phones and a lot of technology. There are regular reports about people who develop separation anxiety if they don't have their phones for a few minutes. What a ridiculous state of affairs!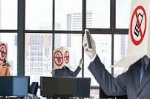 It often appears true that many people would rather live their lives second hand, peering into the little square face of a mobile device than actually concentrate on the here and now. I noticed the arrival of about eight people at an open air meal when we were in France recently. They were all aged about 18-20. As they approached the table next to us they were chatting away pleasantly and fluently. As soon as they sat down, every single one of them whipped out a mobile device and in silence they interacted with others via technology rather than their friends who were actually present. After quite some time they had some disjointed, three way conversations with others at the table. It was bizarre but seems to be the norm.
A lot has changed since the world's first mobile phone call which was made on April 3rd 1973. Mobile phones are now a lot lighter and easier to use. The thought of carrying around a phone that weighed 1.1kg and measured 228.6 x 127 x 44.4mm is hard to comprehend in today's world. Many business people now just couldn't work efficiently if they were confined to using a phone that permitted 30 minutes talk time and had a battery that took around ten hours to charge.
Since then technology has developed to allow people to do more and more via mobile devices. Take the iPhone for example. You can do a considerable number of things with it now, some more useful than others. Mobile users now have huge access from their phone, whether it be contacting auntie in Australia, to a Sky box at home or recording favourite TV programmes.
Mobile devices are a double edged sword. In a survey commissioned by CareerBuilder, researchers found that 50% of those surveyed said that mobile phones and texting were the main reason work was not being completed on time. I can well believe it.
Employees don't have the right to have constant access to their mobile devices while at work. Many employers have a rule which limits or bans usage while at work. For example, FedEx's Indianapolis transport hub banned mobile phones from their site asking employees to leave their mobile phones in the car whilst at work. Many of the workers use dangerous equipment so they have to have rules in place to ensure employees focus on what they are doing to maintain their safety and security. UPS have also stopped employees from bring their phones into the office.
No one ever came to any harm because they couldn't text their friend back immediately. Like many office based businesses we say that personal mobile devices must be kept in bags or desk drawers during working hours. This is outlined in our employee communications policy explaining that we reserve the right to treat any breaches of this rule formally through the disciplinary process.
If you have concerns about your employees and the amount of time they're spending on their mobile phones, have a chat with them. If they know they are not supposed to be using them during working hours, reiterate to them that this is a breach of the rules and if they continue to use their mobile phones during working hours, this may lead to disciplinary actions. Carry out checks and then discipline if appropriate.
We deal with the good, the bad and the ugly of HR. If you need help resolving problems with tech savvy employees or any other HR issues, give us a call on 01908 262628.
Signed up for our free resources and free weekly tip yet? Register and subscribe here.
Russell HR Consulting provides expert knowledge in HR solutions, employment law training and HR tools and resources to businesses across the UK.
Subscribe to our free monthly HR newsletter. Russell HR Consulting employment law newsletters are emailed automatically to our ever-growing number of subscribers every month.