Although we're only a week into December (plenty of time left for Christmas shopping!) the commercial Christmas season has been with us for some time. I think the first glitter of tinsel was spotted by a team member in August this year.
At Clare Stables we will be putting Christmas decorations up later this week and are looking forward to our Christmas team lunch shortly before we break up. It should be a bit quieter then so I can relax a little, though I can remember some years when I've had to advise on a last minute Christmas Eve crisis, usually against a background of Christmas music.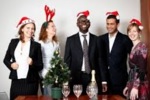 Christmas brings its own issues for employers. From Black Friday to Christmas parties and flexible working demands if you keep the business open between Christmas and New Year, we have to deal with them all.
Work-related social events are a particularly big issue for employers, with many having to decide how to ensure employees behave appropriately and how to deal with worse-for-wear workers who turn up late the morning after the big event.
While you want your party to be enjoyable and not to have to be too heavy handed about pre-party guidance, you really must set expectations in advance. In a nutshell Christmas, parties, drunkenness are not a defence to inappropriate behaviour or breach of the company's rules, before, during or after the event. Employees must understand that they will be subject to the same rules as if the breach happened in the cold and sober light of a grey December day.
This includes a late or no-show the day after the party. Absence quite definitely doesn't make the heart grow fonder in this context. Quite the reverse. Tell employees in your advance communication that if they turn up for work late the morning after the company Christmas party or don't turn up at all, you will deduct pay. Your terms of employment should include the right to do this in its contracts of employment.
You can also make it clear to staff at the same time that disciplinary action will be taken against any employee who fails to turn up, or turns up late, the day after the Christmas party and there is reason to believe that the non-attendance/lateness is due to over-consumption of alcohol. N.B. Make sure there is plenty of suitable food at your party to soak up alcohol, including vegetarian options.
Many businesses close between Christmas and the New Year taking the pressure off employees with children. You can require your staff to take time off by giving notice at least twice the length of the period of leave that the worker is required to take. So, for example, if the business is to shut down for two weeks over Christmas, you must give at least four weeks' notice.
If the business is staying open you may have a number of conflicting holiday requests, some of which will have to be refused. If you cannot accommodate all requests make the decision based on your usual criteria. This may be first-come, first-served or it may be based on a "if Jane had Christmas off last year, Joan can have Christmas off this year" type of approach.
Refuse a worker's holiday request by serving a counter-notice. This must be given at least as many calendar days before the proposed leave is due to commence as the number of days which you re refusing.
Happy Christmas (when it gets here!).
We deal with the good, the bad and the ugly of HR. If you need help resolving problems with Christmas queries or any other HR issues, give us a call on 01908 262628.
Signed up for our free resources and free weekly tip yet? Register and subscribe here.
Russell HR Consulting provides expert knowledge in HR solutions, employment law training and HR tools and resources to businesses across the UK.
Subscribe to our free monthly HR newsletter. Russell HR Consulting employment law newsletters are emailed automatically to our ever-growing number of subscribers every month.