In the case of Secretary of State for Justice v Hibbert, the court had to consider whether the words "I have no alternative but to resign my position", are ambiguous.
After problems at work Ms Hibbert wrote to her employer saying: "I am of the view that there has been a fundamental breach of my employment contract with my employer and have no alternative but to resign my position".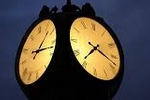 The letter was dated 29 June 2012. The employer offered to give Ms Hibbert time to reconsider, but she did not do so. It then wrote accepting her resignation, requiring her to provide four weeks' notice, and indicating that her last day of work would be 27 July 2012.
Ms Hibbert later submitted a complaint to a tribunal. The issue in this case was whether a claim for dismissal was lodged out of time. This turned on her letter of resignation. If the effective date of termination was on 29 June 2012 the claim was out of time. If it were 27 July 2012, it was in time.
The employment tribunal thought that the 29 June 2012 letter was unambiguous as to resignation but not as to the date of termination of the contract, which was still to be settled. The claim was therefore in time.
On appeal, the Employment Appeal Tribunal disagreed. In Southern v Franks Charlesly & Co [1981] the Court of Appeal considered words such as "I am resigning" were unambiguous. In this case the EAT considered that the words used by the Ms Hibbert were also unambiguous. There was no question of a decision being taken in the heat of the moment and the letter was written on legal advice. The fact that the employer required her to give four weeks' notice and stated that her last working day would be 27 July 2012 and that she was paid for that period had no legal effect.
As a matter of fact she resigned on 29 June 2012. The unfair dismissal claim was lodged out of time.
Note that before accepting or otherwise acting upon a resignation, you must be satisfied that the giver really did intend to give a notice of resignation. So where an employee states he is resigning (verbally or in writing),take the opportunity to check if this is the employee's real intention. Even if you try to agree a different termination date with the employee, if the employee stands by their "resignation", then the effective date of termination of employment is the date that resignation is given.
Contact us if you'd like help with an HR queries or problems.
Russell HR Consulting provides expert knowledge in HR solutions, employment law training and HR tools and resources to businesses across the UK.
Subscribe to our free monthly HR newsletter. Russell HR Consulting employment law newsletters are emailed automatically to our ever-growing number of subscribers every month.