It is no secret that I am not a football fan, but even I was interested in Leicester City's remarkable achievement when they won the Premier League on Monday. It was an astonishing outcome for a club that (I am informed) were likely to be relegated last season. Starting from a position of being 5,000 to 1 outsiders Leicester City had never considered themselves as winners of the Premier League. It wasn't just the club that did well out of their success. One of their fans won £25,000 and the bookies had to pay out over two million pounds worth of winnings. This is one fairy story that will go down in football history.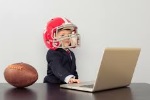 The title wasn't won at the Manchester United game last Saturday but by a 2-2 draw at Stamford Bridge on Monday night. I am told it was a very exciting game with a number of yellow cards and player disputes, after which there were thousands of Leicester fans celebrating around the country in pubs, clubs and at the stadium. There would have been a lot of Leicester fans with bad heads on Tuesday morning. Some may even have failed to make it to work, causing a lot of unhappy employers.
With only 36 days to go until the 2016 Euros in France a lot of supporters might be taking the time off to go and watch their country play or are looking to spend the time down the pub with their friends. This is a big sporting event with many football fans interested in whether the England football team does well or not. The first game of the tournament for England is 8pm on Saturday 11th June, but the second is on Thursday 16th June at 2pm. National matches held during the day are often a problem for employers. While some employees may book the time off, others may call in sick or not turn up at all. The longer the national team stays in the tournament the worse it gets. If they get to the final some followers can barely contain themselves for excitement.
There are no human rights to watch football while you should be working, whatever the enthusiasts may think, but forewarned is forearmed, so set your attendance standards before any major sporting event takes place. If your employees understand what they should and shouldn't be doing during this time it will allow both employers and employees to plan time off and be more flexible with their decision making. Remember if you are flexible with staff that like the football it is important that you also accommodate those that don't.
Having a robust sickness policy in place will help if any employee decides not to turn up for work or calls in sick. If you have concerns that your employees will be taking unauthorised time off during this time make sure yourself and managers monitor employee absence during the event and explore the absence on his (or possibly her) return.
Employees may decide that they want to stream the game off of their mobile phone or on their work computer. There are risks attached to online streaming, including the downloading of unwanted viruses onto the company system. Have a clear policy on the use of social media and internet at work. You may allow your employees to watch TV at work and this may be the norm, however if your employees are watching TV and you don't have a TV licence you could be held liable and fined up to £1,000.
You might also need to think about a PPL licence. This is required when recorded music, including radio and TV, is played in public. There is no statutory definition of 'playing in public' (also sometimes referred to as 'public performance') but the UK courts have given guidance on its meaning and ruled that it is any playing of music outside of a domestic setting – so, for example, playing recorded music at a workplace, public event or in the course of any business activities is considered to be 'playing in public'. In contrast, any recorded music being played as part of domestic home life or when there is an audience entirely comprised of friends and/or family (such as at a private family party) does not require a PPL licence.
We deal with the good, the bad and the ugly of HR. If you need help resolving problems with family friendly issues (no we don't do sports coaching) or any other HR issues, give us a call on 01908 262628.
Signed up for our free resources and free weekly tip yet? Register and subscribe here.
Russell HR Consulting provides expert knowledge in HR solutions, employment law training and HR tools and resources to businesses across the UK.
Subscribe to our free monthly HR newsletter. Russell HR Consulting employment law newsletters are emailed automatically to our ever-growing number of subscribers every month.