Being promoted to a role where you are managing your former colleagues has its challenges. When I'm delivering employment law training I come across so many people who tell me that they found it hard to make the transition. This was in part because the demands if the job had changed and in part it was because the nature of their relationships had changed so much.
Today's blog is dedicated to those who've been recently promoted to their first management role.
Here are some steps you can take to smooth the transition.
Don't let people make assumptions about what your new relationship will be like — show them. Don't say to all your former colleagues that "you won't change" or that "nothing will change". It will (or it certainly should).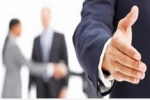 When you've been appointed meet with team members. Say that you'll need their help in making sure you do the right things. Remind them of all the ideas "we" had prior to your promotion. Say that you're interested in hearing their thoughts and contributions on raising the bar and achieving the team goals.
If you competed with a peer for the job, take him or her aside to say you value their contributions. Take a specific action to back up your words, such as assigning them to an important task.
Don't introduce any sweeping changes right away. Far too many people try to make their mark without really knowing what they're doing. No matter how good your plan is, wait until you've established your credibility as a manager.
You have entirely different responsibilities. You will now be measured as a success or failure on how others do. You will now or in the foreseeable future, need to make some hard decisions. Being friendly is good but you have to keep a small emotional distance so take a step back from close relationships. You will almost certainly have to go through a discipline process with a team member one day. It's much harder when it's a personal friend.
You can have some banter with your team but keep it general and confined to matters outside the workplace. As a team member you were probably in on regular gossip, discussions about management, and maybe even some venting and/or complaints about the company. That now has to stop. Avoid the gossip. Limit socialising with your team outside work.
Hone your communication skills. Remember how often you and your friends would say things like, "if they would just ask us," or "we told them, they just didn't listen,"? Give your team members the opportunity to contribute their thoughts. Listen, take notes and think about what's been said. Don't commit unless you're sure of your authority, but be encouraging to keep the conversation open.
Yesterday, you may have talked about your boss. Today, your team may be talking about you. Making the leap from ream member to leader does not have to be difficult, but it absolutely must be a change from how you behaved before.
We deal with the good, the bad and the ugly of HR. If you need help HR support, building your dream team or any other HR issues, give us a call on 01908 262628.
Sign up for our free resources and free weekly tip - subscribe here.
Russell HR Consulting provides expert knowledge in HR solutions, employment law training and HR tools and resources to businesses across the UK.
Subscribe to our free monthly HR newsletter. Russell HR Consulting employment law newsletters are emailed automatically to our ever-growing number of subscribers every month.