Not all businesses can be run using a virtual workforce, but if it can be done, it's certainly worth looking at. Keeping costs down and working flexibly is essential in today's market. To succeed they need good quality workers to service their sales. The virtual workforce can be employed or work on an outsourced basis. Outsourcing is particularly good for buying in talent on an "as needed" basis.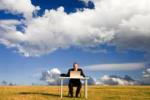 What are the pros and cons of using a virtual workforce? In its favour technology means that you can bring people together as needed from across the country (or world). Virtual working cuts costs significantly (office, travel costs etc) and flexible working is easier to accommodate. Such teams have more time because there's no daily commute. Virtual or outsourced teams are often more productive and you can establish that in real time because virtual working means you need to use metrics even more than usual.
There are of course potential difficulties. There can be over-reliance on electronic communications and it's harder to build a team because virtual teams may never meet face to face. In turn this can lead to feelings of loneliness and isolation for those working from home and it can sometimes be harder or take longer to spot problems with virtual workers.
If you are to manage a virtual working efficiently there are a number of points to consider.
Assess the suitability of employees for virtual working.
Make sure that the virtual team have the right technology to support virtual work and that they work in environments with minimal distractions.
Focus on leadership.
Provide strong structural support to keep the team on track. Expectations must be very clearly defined, and KPIs set out early and revisited regularly. Check-in with virtual workers frequently and hold regular team meetings.
Stay connected by using communication technology.
Managing a virtual team is not so different from managing one physically present in your office. The tools may look a bit different, but the same principles to managing people apply, but you have to shift the style and approach to virtual.
Key areas of emphasis are:
Recruitment - Ensure that you recruit people who are responsive to working virtually. It's not for everyone.
Support - Virtual workers want to be included.
Development - Encourage, mentor, guide and train so that virtual workers will continuously learn and improve, even when a manager is not present.
Well-managed virtual working can work incredibly well for businesses and studies have shown that employees with access to flexible working arrangements tend to be more satisfied, committed and engaged with their jobs, which leads to increased innovation, quality, productivity, and growth. If you have the right work, right processes, right team and right manager in place it's a win-win.
Russell HR Consulting provides expert knowledge in HR solutions, employment law training and HR tools and resources to businesses across the UK.
Subscribe to our free monthly HR newsletter. Russell HR Consulting employment law newsletters are emailed automatically to our ever-growing number of subscribers every month.