I am not known for my ability to tolerate bad service. I accept that people make mistakes and I can forgive that if it's well handled. But often it's not and that's when I give up and walk away. There's a very long list of firms I just won't deal with because they're sloppy and don't care.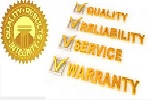 I really don't understand why more employers don't crack down on bad service. Good customer service isn't just important in business ... it's absolutely vital. If you have good customer service, people naturally assume you have good products (and vice versa). If there's the occasional slip-up your clients tend to forgive you because they know it's an aberration and not the norm.
My recent experience with one large retailer was so bad that I felt compelled to write to the Chief Executive let him know why I won't be shopping with them again. I ordered a bed online on May 2nd. I wanted to book the delivery date some time in week commencing 30th May but every time I tried to do so the system stopped although dates were visible in that week. It simply would not function beyond a certain date. To conclude the sale I booked the delivery date for the morning of 27th May and made arrangements to be available during that time slot.
Unfortunately I had to go to a meeting on the morning of Friday 27th. So on Thursday 26th at about 8.30am I called the customer services number to cancel my delivery slot and re-arrange. I was told that it had been cancelled and that someone would be in touch to reschedule the delivery.
I was surprised to receive two calls from the driver on Friday morning trying to deliver the bed. I felt really sorry that he had been so unnecessarily inconvenienced, but it had been caused by the failure in the company's system and there was really nothing I could do.
At 8.20am on Saturday 28th as nobody had been in touch to re-schedule the delivery I called again to reschedule and have now been told the items are out of stock. Hmmm. They did have a stab at sorting it out, but it was all a bit feeble. I was given the opportunity to buy a replacement with an additional £80 to spend, but the bed I wanted had a further 48 day waiting time. I gave up and cancelled the order but will now have to wait three-five days for a refund.
There was absolutely nothing good about this experience. In fact (BT aside who are the undisputed leaders in the field of appalling customer service and incompetence and I am working up to taking my next bout of legal action against them) it is quite the worst I have suffered for some time. There's been no response from the company. Maybe the rot started at the top. I have now placed an order for the bed with John Lewis. In fact they are delivering today. Fab! It's been a completely different customer experience.
People will always remember if your customer service was really great or really terrible. From a purely business standpoint, good customer service is a great source of referrals. People like to hear you have excellent customer service, pure and simple.
How do you build a culture of service excellence?
Have high standards, communicate them, live them and don't compromise.
Recruit people who are passionate about what you do and really care about doing a good job.
Train your team and allow them to do what they naturally do brilliantly.
Invest in good equipment and systems that work.
If things go wrong, admit it gracefully, correct the mistake, learn from it and make sure it doesn't happen again.
Constantly review how you can do things better.
Listen to what your customers tell you.
Never take things for granted.
Be easy to work with and make your customers' lives easier.
Graciously walk away from clients who don't have similar values.
The same service you give to your clients should also be applied to your team, suppliers – anyone in fact with whom you come into contact.
I'm pleased to say that when an independent marketer organised an anonymous survey of our clients last year she was staggered, saying that across the criteria surveyed it was consistently one of the highest satisfaction ratings she's ever encountered. But we still found things we could do better – and have done them.
We deal with the good, the bad and the ugly of HR. If you need help sorting out sloppy service providers on your team or any other HR issues, give us a call on 01908 262628.
Signed up for our free resources and free weekly tip yet? Register and subscribe here.
Russell HR Consulting provides expert knowledge in HR solutions, employment law training and HR tools and resources to businesses across the UK.
Subscribe to our free monthly HR newsletter. Russell HR Consulting employment law newsletters are emailed automatically to our ever-growing number of subscribers every month.