There are a number of things you can do to succeed in your career. Here are some tips to improve your chances of achieving workplace success, in spite of any economic ups and downs.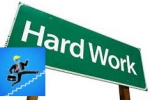 You don't have to have a degree, but make sure you have good literacy and numeracy skills and ensure you acquire new skills to do your job really well. Become an expert in your field!
Try to always be a step ahead at work. Anticipate what will be asked of you, and offer your services. Be seen as a "can-do" person. Deliver work ahead of time.
Network internally to identify opportunities for growth or promotion.
Make sure you and your manager are clear about what you are expected to deliver and when.
Learn from your mistakes. The worst thing to do is try to blame someone else or deny that the mistake was made. Accept responsibility. Mistakes can help you improve your performance and communication skills.
Don't go to your manager every time you have a problem. The more problems you can solve independently, the more responsible and valuable you will be.
First impressions count. Make sure you dress and act professionally at all times.
While bringing some home-made flapjacks in occasionally will go down well, you have got to get the basics right in the first place. Plan for success by following our tips.
We provide free workshops through our Build and Fly Your Own Rocket programme to our local schools to educate school leavers about what it takes to get and keep a job. For more information, contact us.
Russell HR Consulting provides expert knowledge in HR solutions, employment law training and HR tools and resources to businesses across the UK.
Subscribe to our free monthly HR newsletter. Russell HR Consulting employment law newsletters are emailed automatically to our ever-growing number of subscribers every month.