The weather has been truly horrible this week. I wouldn't mind so much if it was cold and crisp with a hint of winter sun. Instead, it's been cold, wet, windy and grey. It doesn't do anyone's mood much good.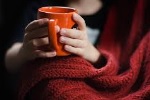 This time of year, we see cases of seasonal affective disorder, often known as SAD or 'winter depression'. Individuals with SAD tend to experience low mood, loss of interest in everyday activities and difficulty sleeping and getting up in the morning. The symptoms normally worsen during the autumn months when the days get shorter. A longing to remain firmly clamped to the duvet kicks in so it's especially important to keep employees engaged during the winter months.
Last week I was reading an article by the CEO of Globoforce on how to keep the modern workforce engaged. The article discussed new research conducted by the IBM Smarter Workforce institute. The main purpose of the study was to investigate the impact of employee experience in the workplace.
The results of the study show that employees who experience a high level of human employee experience at work often tended to perform better, were more likely to put in more effort and were less likely to quit their jobs. IBM's research has highlighted the five key aspects of the modern employee experience.
Belonging - feeling part of a team, group or organisation.
Purpose - understanding why one's work matters.
Achievement - a sense of accomplishment in the work that is done.
Happiness - the pleasant feeling arising in and around work.
Vigour - the presence of energy, enthusiasm, and excitement at work.
The modern workforce is changing. Employees are no longer as motivated by money but would rather have more time off and employee perks.
This year I introduced some additional team benefits. We now have a quarterly (well, "ish") team evening and I'm giving them an extra-curricular day off in early December for Christmas shopping. Both have gone down well with the team.
In May I gave the team a budget of £500 to arrange an evening of their choice. We went to see Chicago at the theatre and had a pre-theatre supper. They are now in the process of arranging a spa evening for the new year. It's nice to have something to look forward to.
People are motivated by many different things, but here are some tips on what seems to work with my team.
Include your employees in business decisions and canvas their thoughts on your ideas.
Have a team lunch/meeting reasonably regularly where you can chat through the business ideas you don't normally have the chance to discuss. Time seems to run away with me but I'm working hard at making this a monthly event. We work very closely so they usually know what's happening day-to-day and week-to-week, but this sort of bash is a good time to talk through ideas (theirs and mine) and longer term plans and projects. Pretty much anything is up for discussion so long as it's legal and we can afford it.
Give your people a chance to develop and flex their workplace muscles. We have decided to have a charity function next year. We want to raise money and wear our posh frocks, so we're thinking charity ball. But who knows? The team will be setting up the event, which will give them some useful project management experience. I'll help them get the framework together and coach them a bit, but most of the time I will just be a pair of hands.
Despite the grey weather we're feeling surprisingly feisty!
We deal with the good, the bad and the ugly of HR. If you need help resolving problems with employee motivation or any other HR issues, give us a call on 01908 262628.
Signed up for our free resources and free weekly tip yet? Register and subscribe here.
Russell HR Consulting provides expert knowledge in HR solutions, employment law training and HR tools and resources to businesses across the UK.
Subscribe to our free monthly HR newsletter. Russell HR Consulting employment law newsletters are emailed automatically to our ever-growing number of subscribers every month.