Remember Mrs Wembley. She was the cook, wonderfully played by Joan Sims, in On the Up. Many people like a drink, especially after a long hard week of work and Mrs Wembley was no exception. She loved a glass or three of sherry. It may not be walking on the wild side, but drinking in moderation is generally OK. The problem with alcohol is that after a couple of glasses it tends to decrease a person's ability and wish to stop. In Mrs Wembley's case it seemed to have a deleterious effect on her ability to count!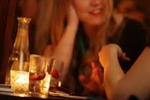 The UK is experiencing significant social and health problems connected with alcohol abuse and as is often the case, trends that appear in social situations are often reflected in the workplace and have to be dealt with there. Work and alcohol can be a toxic cocktail. Generally the consumption of any alcohol is banned at work. Many employers also ban the consumption of alcohol by workers during the working day (even when the employee goes off site and is on a rest break) simply because the impact of just one drink reduces judgement, performance and productivity and increases risk.
Employers often reserve the right to carry out drug and alcohol testing, either "with cause" or random, particularly in high risk work environments. Breach of these rules are usually classed as gross misconduct. Where an employee has developed alcohol dependency it is appropriate to treat it as an illness and to provide reasonable support to the employee.
A particular problem area is social-but-work-sponsored-event drinking. It's really nice to take the team out, have a relaxing time, maybe buy them a nice meal and some drinks as a thank you. Unfortunately, some employees let their hair down a bit too much at work events, especially when they know the business is paying. At Christmas dos, sales meetings, team building exercises and corporate hospitality, there is always one person who royally embarrasses themselves and ends up in the first taxi home (or worse on YouTube). We are then given the task of dealing with it first thing on Monday morning.
One tech company we heard of decided to hold their annual Christmas party in their newly refurbished office. The office was left in an appalling state, the toilets/showers were trashed and it took a couple of days to repair the damage. The career prospects of those responsible were soiled beyond reparation.
Drunkenness is no defence, so the perpetrators themselves can be held liable. Employers can also be vicariously liable for their employees' wrongdoing in the course of their work (and this does extend to work related social events). It means that you have to take steps to protect those attending the event, including taking reasonable steps to intervene and manage situations where someone is overdoing it.
Alcoholic excesses can result in:
damage to property;
fighting or assaults (including physical forms of harassment);
accidents – falls, trips, "dares";
verbal harassment of various types;
threats and intimidation.
Make sure you have written guidelines about our organisation's expectations of employees at work related social events. Circulate these to all employees ahead of time. What it boils down to is this: if an action would be unacceptable and deemed to be gross misconduct in the cold light of day at work, it will also be deemed to be gross misconduct at a work-sponsored social event.
We deal with the good, the bad and the ugly of HR. If you need help resolving problems with drunk employees or any other HR issues, give us a call on 01908 262628.
Signed up for our free resources and free weekly tip yet? Register and subscribe here.
Russell HR Consulting provides expert knowledge in HR solutions, employment law training and HR tools and resources to businesses across the UK.
Subscribe to our free monthly HR newsletter. Russell HR Consulting employment law newsletters are emailed automatically to our ever-growing number of subscribers every month.