Last Friday on 11th November at 11:00am silence fell on the Russell HR office to remember those who lost their lives serving their country in time of war. It's important to remember and respect what these men and women did for us, especially as time goes on and memories fade.
For the Fallen was specifically composed in honour of the casualties of the British Expeditionary Force which in WW1 suffered severe losses at Mons and the Battle of the Marne. The fourth stanza is particularly moving and often used in remembrance days services as a tribute to all casualties of war.
They shall grow not old, as we that are left grow old:
Age shall not weary them, nor the years condemn.
At the going down of the sun and in the morning,
We will remember them.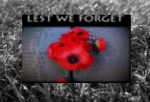 We should continue to provide practical support for those whose lives were physically and mentally damaged by war. One of the ways we can show respect and raise money is by wearing our poppy.
The Fifa decision to ban the wearing of the poppy at the England and Scotland 2018 World Cup qualifier on Remembrance Day is a curious one. The decision was widely criticised. Fifa says is does not allow any nation to wear any political, religious or commercial messages on their shirts. That may be true, but a poppy is none of these things. In the event the Football Association ignored the ban allowing English and Scottish players to wear the poppy.
The wearing the poppy in the workplace is politically neutral, but there may be times when it would be appropriate to stop employees from wearing certain items of clothing. Logos and slogans will come under your businesses dress code policy. Your dress code rules must be fair, appropriate to the nature of your business and non-discriminatory.
If you feel that a logo or slogan is not appropriate, you can ask your employee not to wear that item of clothing again. Because we work in a fairly conservative environment, our dress code states that employees should not wear any form of logoed clothing. So wearing a t-shirt that says 'If found, please return to the pub' would be completely inappropriate, though it might be fine in a different and less formal work environment.
Promoting a certain image through your workers may be important to you and your business. If you have a dress code ensure it applies equally to men and women. Avoid unlawful discrimination in any dress code policy. Make reasonable adjustments for disabled employees when dress codes are in place.
We deal with the good, the bad and the ugly of HR. If you need help resolving problems with dress codes, politically active employees or any other HR issues, give us a call on 01908 262628.
Signed up for our free resources and free weekly tip yet? Register and subscribe here.
Russell HR Consulting provides expert knowledge in HR solutions, employment law training and HR tools and resources to businesses across the UK.
Subscribe to our free monthly HR newsletter. Russell HR Consulting employment law newsletters are emailed automatically to our ever-growing number of subscribers every month.