During the recent Conservative leadership campaign Andrea Leadsom was accused of exaggerating her 25-year career in the finance industry. Former colleagues at both Barclays and Invesco Perpetual say that Mrs Leadsom overstated the importance of her roles at both institutions.
Originally her CV said she worked as Financial Institutions Director. This was later amended to Deputy Financial Institutions Director. The discrepancies in her CV became a key issue for her campaign and among other things proved her undoing in the initial voting.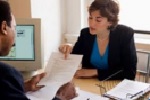 Mrs Leadsom may not have been deliberately trying to mislead. We all know that mistakes happen. That said, embroidered CVs abound. Job seekers who add a few white lies depend on the fact that most employers don't verify qualifications with educational institutions or send reference requests to former employers instead simply rely on CV and application forms. They often get away with it too – at least in the short term.
There have been some hugely embarrassing situations where quite senior people have lied about their experience and qualifications, nobody has checked and the lid has blown off at a later date. In 2001 George O'Leary was appointed as Head Coach of Football at University of Notre Dame. Mr O'Leary said he had earned a master's degree in education at NYU-Stony Brook University (in fact they are two different colleges). He took two courses at SUNY Stony Brook, but did not graduate. He also said he had earned three letters at the University of New Hampshire. He hadn't played in a game. He resigned after the discovery was made. In total he held his post for five days.
The most common lies are an exaggerated skill set, responsibilities, educational qualification grades and employment dates. Salaries and bonuses are often embellished too. By the time these highly creative – if inaccurate – CVs arrive they are looking pretty good. There are some people who look too good to be true, and turn out to be genuinely too good to be missed. There aren't many of those. To avoid expensive time wasting and possibly agency fees, test the water before bringing candidates in for interview. Wherever possible before the interview stage we ask candidates to provide some data relevant to the role so we and assess it and decide on whether to progress to the next stage.
If you interview a good candidate and you feel they would be a great fit for your team what can you do to check whether your gut feeling is correct? As well as rigorous competence questioning use testing or workplace assessments to take objective soundings.
Some people will exaggerate their CVs and get away with it because they really are as good as they say they are. It's more likely that they are not. A dishonest CV with poor recruitment checks could lead to an individual being offered a role beyond his or her capabilities. For me there's also a trust issue. If someone lies to me at this stage I don't want to work with him or her. Apart from anything else it is arrogant and stupid because it's so easily discovered.
We practice what we preach and rigorously test our applicants by carrying out a range of testing exercises to enable candidates to demonstrate their abilities and values relevant to both the role and our business. For example, we ask our trainees to research a specific employment law topic and to come ready to present the information at interview. We want to know whether they have the capability and diligence to do the role.
Reference checks can also be useful and may highlight discrepancies in what you have been told by the candidate and the former employer. It's worth checking, even though so many companies (regrettably) give so little information now. It may seem like a chore to chase former employers but you will be glad had done so if something negative rears its head.
Leave creative CVs to the budding novelists and focus on the facts!
We deal with the good, the bad and the ugly of HR. If you need help resolving problems with recruitment or any other HR issues, give us a call on 01908 262628.
If you need help getting HR problems resolved in your business, get in touch.
Signed up for our free resources and free weekly tip yet? Register and subscribe here.
Russell HR Consulting provides expert knowledge in HR solutions, employment law training and HR tools and resources to businesses across the UK.
Subscribe to our free monthly HR newsletter. Russell HR Consulting employment law newsletters are emailed automatically to our ever-growing number of subscribers every month.