In 1986 Clare Short was the MP for Birmingham Ladywood. She hit the headlines when she introduced a Page Three Bill to try and remove the pornographic images of women distributed in the tabloid press. Ultimately it was unsuccessful – which is greatly to the discredit of the MPs who voted against it and the tabloids who branded her Killjoy Clare.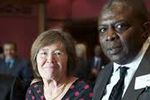 Lads mags and page three pictures are still ever-present in all sorts of retail outlets. If you're particularly opposed to these kinds of publications you can avert your eyes, but in the last few days a group of lawyers have claimed that supermarkets could be exposed to legal challenges from employees and customers if they continue to stock magazines and newspapers with naked women on their covers.
In the letter to the Guardian newspaper, the fourteen lawyers say that exposing customers to these types of publications could give rise to a breach of the Equality Act 2010. In addition, asking staff to handle the magazines containing pornographic front covers could amount to sex discrimination and sexual harassment. UK Feminista and the anti-objectification organisation Object have launched a campaign to put pressure on Tesco, Sainsbury's, Morrisons, Asda and WHSmith to remove this type of material from their shelves.
The Equality Act 2010 protects employees from direct discrimination because of a variety of protected characteristics, including gender. Employees are also protected from unjustified indirect sex discrimination, sex-related discrimination, harassment of a sexual nature and harassment by third parties (in certain circumstances),as well as victimisation.
Employers can be directly liable for sex discrimination during a worker's employment and there have been examples of staff successfully suing employers for sexual discrimination, in respect of exposure to pornographic material at work.
In Moonsar v Fiveways Express Transport Ltd, Ms Moonsar worked as a data entry clerk at a courier company. During her evening shifts, Ms Moonsar complained that male members of staff downloaded pornographic images from the internet and viewed them in close proximity to her workstation. She didn't complain at the time but found the images to be offensive. The EAT agreed with Ms Moonsar and found that this type of behaviour would have clearly had the effect of causing offence to a female employee and would be regarded as degrading and offensive. The EAT therefore substituted a finding of sex discrimination and the company had to pay up as a result.
Although this case concerns the exposure of pornographic material from the internet, it's a similar issue. Ms Moonsar was offended by the images and the EAT agreed that this shouldn't have been the case. It's not rocket science to work out that some male Asda workers will jump at the opportunity to stock the magazine shelves with the likes of Nuts and FHM, but there will be other employees who won't be as enthusiastic about handling magazines of such an explicit nature.
Whether or not you're part of a large retail group like Tesco or Asda, it's important that you minimise the risks of sexual harassment or discrimination occurring in your workplace. You might not stock any lads' mags at all, but as the Moonsar case shows, it's very easy for employees to access similar sort of material online which can leave you liable to a potential claim. If you haven't done so already, it might be worth considering:
introducing a harassment policy;
implementing an email and internet policy;
organising training for staff, particularly managers;
encouraging victims to speak up about concerns; and
controlling the physical environment as much as possible.
It's never an employer's intention to expose workers or customers to sexual discrimination or harassment, and it can be difficult to know what to do when the current issue of lads' mags is up in the air and debate is still under-way. Where you can control the likelihood of such claims arising however, it makes sense to do so. We're experts when it comes to dealing with these sorts of issues, so if you'd like any help, please don't hesitate to give us a call.
Russell HR Consulting provides expert knowledge in HR solutions, employment law training and HR tools and resources to businesses across the UK.
Subscribe to our free monthly HR newsletter. Russell HR Consulting employment law newsletters are emailed automatically to our ever-growing number of subscribers every month.