New employees usually arrive with very little knowledge of the company - except what they 'should' have researched beforehand on your website. Whether your organisation is small or large you should have a well thought out induction programme. The aim of the induction is to help new employees adjust as quickly as possible to their new working environment and prepare them for their new role.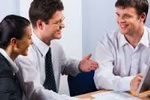 Staff induction programs are one of the great missed opportunities in most organisations. Too often it's a one way information overload, boringly done. Employers should encourage new employees to see themselves as part of the business. This is not only an opportunity for new team members to learn about your business, it's also a great opportunity for you to learn about them.
The length and make-up of the induction process will be influenced by the job role and the background of the new employee. Having a standard approach to employee inductions isn't likely to meet the needs and expectations of all staff.
From a practical level if you are doing chalk and talk type inductions, use someone who understands the business, knows the culture and can communicate it in an engaging way.
The traditional classroom inductions can be a bit like "drinking from a fire hose" – just too much. Don't overwhelm new recruits. Too much too soon is as bad as not enough. New starters cannot be expected to retain all the knowledge they are given in one single day. Remember to keep it straightforward, relevant and engaging.
Break it down a bit. If you want to create a memorable first day and keep things interesting think about a more colourful format to interest, inform (and possibly even excite) new recruits. For example, some organisations encourage new recruits to 'find' rather than spoon feeding the information. You could do this by organising an office treasure hunt to 'find' facts about the company. This not only increases their knowledge of the company but also allows interaction with employees from other departments, who they may not until later down the line. Once the induction has come to an end a 'test me' quiz is great way to see what they know. This will also fill in any gaps in knowledge.
Experian took the content of a day's classroom training and transformed it into a friendly, user-driven e-learning experience. The online induction (described as an orientation) means that employees learn at their own pace, dipping into what they need, when they need it. The training doubles as a reference tool and can be re-visited as required.
An induction doesn't have to start from the first day of employment. It can start from the date a new employee accepts the role. Technology plays a big part in our society, so as well as face to face contact use multimedia as part of the mix. You can create an induction portal or film short in-house videos of your employees speaking about the organisation and their role. This could be sent this to new starters before day one of employment.
Bear in mind that some employees may have special needs in terms of inductions, for example, those under 18, people with a disability, older employees and employees from overseas. So you may need to make some adjustments when conducting their induction.
We deal with the good, the bad and the ugly of HR. If you need help resolving problems with inductions or any other HR issues, give us a call on 01908 262628.
If you need help getting HR problems resolved in your business, get in touch.
Signed up for our free resources and free weekly tip yet? Register and subscribe here.
Russell HR Consulting provides expert knowledge in HR solutions, employment law training and HR tools and resources to businesses across the UK.
Subscribe to our free monthly HR newsletter. Russell HR Consulting employment law newsletters are emailed automatically to our ever-growing number of subscribers every month.