The Independent Chief Inspector of Border and Immigration published his report on border force operations at Manchester airport recently. It included a section on the sniffer dogs and their activities between November 2014 and June 2015. Over the seven month review period the airport sniffer dogs helped find around 46,000 cigarettes, 60kg of tobacco, 181kg of illegal meat and £28,000 in cash. They did rather less well in the detection of illegal substances (only on three occasions) and they have managed to find small amounts of class B substances, human growth hormones, Viagra and Bromazepam. However, one of the dogs often found small amounts of cheese or sausages in holidaymakers' luggage (but not class A drugs).
The six dogs and their new kennels cost the taxpayer £1.25m a year. Are their performance Bonios gold plated? Who knows ...... But that's a lot of money down the gullet when the dogs prefer to sniff out tasty food snacks rather than class A drugs.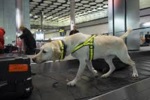 The Manchester sniffers seem to have a poor performance issue causing a decline in productivity and the right results. Managing human work performance can be hard too but if you get it right the rewards are great and your business grows. The key question is: are all of your people meeting all of your standards nearly all the time. If the answer is "no" then you have some work to do. Poor performance is far more common that misconduct. It can be caused by a wide variety of factors and is often so minor it can be quite hard to detect. But make no mistake; poor performance is a serious drain on productivity and profit.
Managers are often unenthusiastic about talking to employees who aren't meeting and maintaining the required performance standards. You wouldn't believe the number of phone calls we get from clients saying, 'I have this employee and...' I could write you a script of how the conversation goes after that. The problem has often been going on for months and sometimes years.
So how do you deal with an employee who isn't meeting those standards? Start by investigating the problem. It's surprising what you find out when do you a little bit of digging. It can be the simplest of things causing the problem but often you won't know until you start investigating.
Once you have investigated the causes and consequences have an informal conversation with the employee. The purpose of this is to encourage and drive the employee to meet workplace standards so agree reasonable targets which can be measured. In cases of poor performance we generally start with softer targets and start to raise them over time. Meet regularly to review progress. Give guidance to allow the employee reasonable time to improve and reach the standards set out. Three months is normally a reasonable amount of time. Hopefully the employee's performance will be meeting and maintaining minimum standards by then, but if it is necessary after that you may have to start to make reviews formal.
We deal with the good, the bad and the ugly of HR. If you need help with under-performing human employees (we don't do dog training!) or any other HR issues, give us a call on 01908 26 26 28.
Signed up for our free resources and free weekly tip yet? Register and subscribe here.
Russell HR Consulting provides expert knowledge in HR solutions, employment law training and HR tools and resources to businesses across the UK.
Subscribe to our free monthly HR newsletter. Russell HR Consulting employment law newsletters are emailed automatically to our ever-growing number of subscribers every month.