The UK has experienced a series of storms this winter and as storm Imogen moves across Britain, the country is being lashed by high winds and heavy rain. Hundreds more people may be left without power and news of flooding is becoming more frequent. It's a wretched situation. This time southern England and south Wales are expected to face the brunt of gales, which have already hit 73mph in Avonmouth near Bristol. There is road, rail and ferry disruption, Met Office are warning that conditions could be difficult.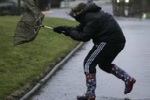 Dealing with the effects of severe weather on your business – whatever form it takes - before it strikes is be the key to effectively managing your workforce. Start by forming and publishing your inclement weather plan. Think through the different weather scenarios and create a response for each of the situations as they arise. By addressing these issues, you set the expectations of what they are required to do in bad weather.
Your inclement weather policy should clearly spell out who is responsible for announcing any closures, and where they will be able to find that information. It's essential to remind employees of the protocol for bad weather.
In the event that your workplace has to close because of bad weather, one of the most common questions is: Do you need to pay your employees? An absence due to inclement weather does not constitute an absence due to sickness or accident. Therefore, an employee who is absent due to inclement weather, such as because of transport difficulties, is absent for personal reasons.
As a general rule, if you decide to close the workplace the employee must be paid. If there is a temporary lay off clause in your contract of employment which allows you to temporarily lay off employees without pay (other than legal guarantee pay),then you can close the business at short notice if needed. If you keep the workplace open and the employee does not come to work--you don't have to pay the employee.
Of course, your business can make its own policies regarding payment on days of inclement weather. So, for example, if the employee can work from home, he will be paid. You can agree temporary variations on hours, allowing people to start later or leave earlier. You can also choose to allow the employee to take the time as paid holiday, or to pay the employee and allow him to make up the hours at a later date.
Schools may be affected by adverse weather and decide to close. This has a knock-on effect for parents. In emergency situations an employee is entitled to take unpaid time off to tackle unforeseen circumstances affecting dependants and extreme weather conditions closing a school or nursery would qualify as an emergency dependency leave situation. An employee affected by school closure would be entitled to reasonable unpaid time off to make alternative arrangements for childcare.
Decide on how you let employees know whether they should come to work. This can be by phone or email. Some organisations use social media to let their employees know if it's too dangerous to come to work.
Notify your customers if the business is closed. This could be in the form of an e-mail, an update to your website, or even a voicemail message on your company's main line that explains that you are closed and not to expect a response.
If you need help getting HR problems resolved in your business, get in touch.
Have you signed up for our free resources and free weekly tip yet? Please follow this link.
Russell HR Consulting provides expert knowledge in HR solutions, employment law training and HR tools and resources to businesses across the UK.
Subscribe to our free monthly HR newsletter. Russell HR Consulting employment law newsletters are emailed automatically to our ever-growing number of subscribers every month.