What a busy couple of weeks we've had here. It seems we've had to deal with an endless procession of disciplines. We've had to deal with minor misconduct, gross misconduct, harassment and bullying – and it's only Thursday! For some reason, when writing these words my thoughts crossed the pond and rested on the new president.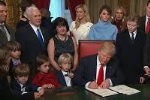 Donald Trump has been in office for about a fortnight and he has already caused quite a stir. His management style has been compared to Hitler and he is being called a racist after slashing refugee admissions, blocking immigrants and visa holders from seven countries entering the United States for the next 90 days. Because of President Trump's actions, hundreds of people were detained at airports and were refused entry.
As well as refusing entry he has ramped up the United States immigration policy and any unauthorised immigrant who is caught crossing the border will be detained. He has also directed the Department of Homeland Security to begin construction of the wall that will divide the United States – Mexico border. He has even found the money to do it without having to ask.
To top it all off Trump has dismissed the acting US Attorney General after she questioned the legality of the immigration ban. Ms Yates ordered the United States justice departments lawyers not to enforce the order. A White House statement accused Ms Yates of "betraying" the justice department and being "weak on borders."
Ruthlessly disposing of people who seek to uphold lawful democratic processes is extremely worrying. It takes you back to lovable (hmm) types like the Borgias and Medicis or perhaps 1930s Germany. It's astonishingly awful behaviour and does not bode well for the future.
Fortunately, under UK employment law an employer can't get rid of employees simply because he doesn't like their opinions.
Here are some tips on managing recent employees who are not meeting your standards:
If an employee is not meeting and maintaining your standards collate the evidence. Are your standards clear? Have they been communicated to staff? Can you prove they have been communicated to the member of staff about whom you have concerns? The more evidence you have the easier it will be for to inform and guide your employee.
In most cases breaches of rules are fairly minor, so have an informal but noted conversation with the employee. Use the evidence collated to show him where he is not meeting your required standards, explore why he's not meeting them and be clear about what is required. Not all employees will handle this well. Agree on a way forward with measureable targets.
Be clear that if the employee does not meet and maintain your standards you reserve the right to explore matters formally.
Set a review date – about three months – and write to confirm the conversation and outcome.
Set up regular follow-up meetings.
My top tip is: don't recruit a problem. Too late for America now. They've gone and done it. But you don't have to recruit the wrong people. My new book, Build Your Dream Team, (written especially for SMEs) shows you how to find, attract and recruit the right people. We're also we're offering a 15% pre-publication discount.
We deal with the good, the bad and the ugly of HR. If you need help recruiting the best talent, sorting out bullies or any other HR issues, give us a call on 01908 262628.
Sign up for our free resources and free weekly tip - subscribe here.
Russell HR Consulting provides expert knowledge in HR solutions, employment law training and HR tools and resources to businesses across the UK.
Subscribe to our free monthly HR newsletter. Russell HR Consulting employment law newsletters are emailed automatically to our ever-growing number of subscribers every month.