Making the right recruitment choice is essential for the success of any business. However, the selection process is just the start of what you hope will become a successful and productive employment relationship. Ensuring you have an effective Induction process in place is the next step to this success.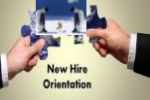 Traditionally, when we think about an Induction, we think about pointing out fire escapes, tea and coffee facilities and the nearest First Aider. Such housekeeping items are of course essential to help employees settle in and comply with your obligations under Health & Safety legislation. But this is just the beginning. Employees need to be inducted into the organisation as a whole, by being given a thorough understanding of its policies and processes, as well as its culture and values. You should consider whom the new employee should be introduced to during their first few days at the company. You should ensure they have access to company data and information that will aid them to get up to speed in their new role as quickly as possible, and you should make sure they know where to direct any questions or concerns. If a new employee is clear on their role and responsibilities and their targets and objectives, this will result in a positive working relationship as both parties will see the contribution the employee is making directly towards the success of the business. This will ultimately reduce management time and create a happier, and therefore, more productive employee.
Do ensure that you are ready for the new joiner and have notified all relevant parties – there is nothing worse than turning up on day one and no one is expecting you;
Do remember the new employee may be feeling nervous and will require your reassurance and support;
Do encourage the new employee to come to you with any questions or concerns;
Do introduce the new joiner to all their co-workers;
Don't forget to include company data and "bigger picture" information in an induction programme;
Don't overload a new employee with too much information during their first few days – a successful induction is as long as it takes for the employee to become fully embedded into their role. How long this takes will depend on the individual and the role and responsibilities they have taken on;
Don't forget to treat all new employees consistently, whether they are on a full-time or part-time contract. You should also tailor induction programmes to meet the needs of any temporary or contract staff;
Remember also that employees who are affected through transfers and acquisitions need to be inducted into the working practices of a new business, regardless of whether their role has changed.
If you would like some assistance with constructing and implementing a successful, induction programme tailored to suit the needs of your company, or for guidance on any other employee related issues give us a call or send an email.
Russell HR Consulting provides expert knowledge in HR solutions, employment law training and HR tools and resources to businesses across the UK.
Subscribe to our free monthly HR newsletter. Russell HR Consulting employment law newsletters are emailed automatically to our ever-growing number of subscribers every month.