Can a severe allergy to nuts be a disability? Yes, says the employment tribunal. If it is sufficiently serious and impacts negatively on day to day activities, it is capable of being a disability.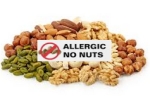 The point was tested in a recent ET case. Mr Wheeldon is a chef working for Marstons PLC, a large brewing and pub chain. In October 2011, he suffered a severe allergic reaction when he came into contact with nuts while at work. He did not return to work and brought a number of disability discrimination claims, arguing that the employer had failed to offer him alternative work.
The employment tribunal had to decide whether or not his nut allergy is a disability under the Equality Act 2010. The employment tribunal examined Mr Wheeldon's medical evidence. This showed that:
his blood-test results were consistent with a nut allergy;
an allergic reaction can be life threatening and he has to "rule his life" by this risk;
he suffers from eczema that needs treatment and even the smell of nuts can lead to a severe reaction;
he was advised of nut avoidance measures, including:
o staying away from oriental restaurants;
o informing airlines of his allergy in advance when he is travelling by plane; and
o being very careful when he shops;
and he carries with him adrenaline injectors at all times for immediate use when he comes into contact with nuts.
The key issue in this case was whether or not the effect of the impairment is substantial. The tribunal thought that nothing in the legislation or guidance explicitly excluding an allergy from the definition of a disability. Mr Wheeldon had been admitted to hospital seven times for suspected anaphylactic shock since he was 16 and it was no exaggeration to say that an allergic reaction could be life threatening. The events of October 2011 had been a "salutary wake-up call" for Mr Wheeldon and the reality was that his day-to-day life would never be the same again.
The employment tribunal concluded that Mr Wheeldon does have a disability under the Equality Act 2010. His claim was allowed to proceed.
If the allergy is serious enough to be a disability, employers have to make reasonable adjustments such as taking steps to minimise the risk of the sufferer coming into contact with the substance to which he is allergic.
If you need help dealing with an employee with a disability, get in touch.
Russell HR Consulting provides expert knowledge in HR solutions, employment law training and HR tools and resources to businesses across the UK.
Subscribe to our free monthly HR newsletter. Russell HR Consulting employment law newsletters are emailed automatically to our ever-growing number of subscribers every month.