We seem to have been talking about recruitment –millennials of/ problems of/ necessity of creativity in recently. Well. It's reared its head again, but this time in a slightly different way ...
Last week one of the team came across an article on unusual job adverts. It really is quite astonishing what jobs are out there.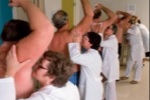 First up: 'Wanted: a tortoise walker'. This was posted on Craig's List under reptile walking. Henry the African Tortoise is 16 years old and needs walking in Central Park. He is allowed to roam freely as long as he is watched carefully. The owners also stated that no tortoise experience was necessary, but you must be an animal person.
Then really bizarrely: 'Chief Wombat Cuddler'. Not just any old Wombat Cuddler, but Chief Wombat Cuddler, no less. The Australian tourism board in the state of Tasmania is looking for someone to become their chief wombat cuddler for orphan wombats. https://www.youtube.com/watch?v=2DwizqPT8es. The tourism board started their search after the video went mad on the internet. The advert has said "Non-cuddlers need not apply"!
I confess – I did check the dates of these to see if these were April the first gags but they do appear to be genuine.
The wombat looks gorgeous (sorry Henry, no offence intended) but I imagine even cuddling cute little animals might pall after a little while. I prefer the cut and thrust of HR consultancy - which brings us back to The Equality and Human Rights Commission. The EHRC has released guidance designed for employers who place or publish adverts for job opportunities and those that advertise or market job opportunities on behalf of a client. It's worth a read.
When you are looking for a new recruit it is important that you do not discriminate against potential employees for a reason connected with a protected characteristic, whether directly or indirectly. There are nine protected characteristics and you know them all (age, disability, gender reassignment, marriage and civil partnership, pregnancy and maternity, race, religion, sex and sexual orientation).
Direct discrimination arises where the individual is treated less favourably because of a protected characteristic, for example, not recruiting an individual because he or she has undergone gender reassignment.
Indirect discrimination arises where the employer has a rule, practice or policy which is applied to everyone in the same way but it has the effect of putting an individual with a particular protected characteristic at a disadvantage and it can't be justified. An example of this was the case of Fhima v Traveljigsaw 2015. Aurelie Fhima, a Jewish claimant, applied for a job in a car hire company's call centre. During her interview she indicated to the company that she would not be able to work Saturdays because she observes the Shabbat and it would prevent her from working from sundown on a Friday to sundown on a Saturday. After the interview the company told her that they could not offer her the job because all call centre operatives are required to work Saturdays. Ms Fhima successfully brought a claim for religious discrimination on the basis that Traveljigsaw's Saturday working requirement put her at a disadvantage because of her religious beliefs. She was awarded over £17,000 for the discrimination.
When advertising for a role check what you're writing. If you can't justify why you're saying and its potentially discriminatory you will need remove it from your advert. Ask your colleagues to check your advert, to sanity check it and if they notice anything that causes concern.
We deal with the good, the bad and the ugly of HR. If you need help resolving problems with recruitment (no, despite the team's entreaties we don't do wombats or tortoises here!) or any other HR issues, give us a call on 01908 26 26 28.
If you need help getting HR problems resolved in your business, get in touch.
Signed up for our free resources and free weekly tip yet? Register and subscribe here.
Russell HR Consulting provides expert knowledge in HR solutions, employment law training and HR tools and resources to businesses across the UK.
Subscribe to our free monthly HR newsletter. Russell HR Consulting employment law newsletters are emailed automatically to our ever-growing number of subscribers every month.