You may or may not think it strange but Sheffield University have recently put up signs to show students how to use their toilets. I thought it was an early April Fool's joke but rather awfully, it is not.
The University's toilets were constantly being left in an awful state with students staying that they are 'pretty disgusting' and the cleaners having had enough of the mess.
Sheffield University caters for over 27,320 students with around 8,470 of them coming from overseas. That's a lot of people using the university's toilets a day. Students' come from different countries and walks of life. Some cultures may well have been used to using a toilet in different ways to others.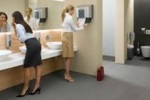 The Russell Group intervened by placing images in the toilets explaining to students how to use the toilet. The signs are detailed and show students the basics of UK toilet etiquette.
In 2014 Lloyds Bank's, Old Broad Street office in central London had the same problem and put up instructions informing staff how to use the toilet. Their guidelines included:
'Please sit on the toilet and do not stand on it.'
'Please flush the used toilet paper down the toilet and not the bin.'
'Please throw plastic cups in the bin and not down the toilet.'
'Please flush the toilet after use with your hand and not your foot.'
'Please use your hand to open the door and don't leave toilet roll on the door handle.'
'The sinks are for washing your hands only. No hand towels or toilet paper should be used as a plug.'
I know some people would say this is almost insultingly simplistic, but you have to respond to the particular needs – and this was needed in that situation.
In Islamic and Asian countries traditional toilets often require the user to stand up and sometimes tourists, international students and workers who are used to standing toilets are trying to do the same with western loos. Unfortunately, the toilets are not designed for this with many of them having disastrous consequences, not to mention the health and safety risks involved in balancing on a toilet! Can you imagine the conversation with a HSE official post-loo accident... I don't want to go there.
We keep our workspace neat and tidy, hoovering and dusting regularly with a monthly spring clean done by the team when we are quiet. There are occasional slip ups; the kitchen may not have been wiped down properly or mugs are left with lipstick or tea stains still intact. All it takes is a quick chat to the team providing the evidence and we don't tend to have the problem again.
One of our clients has been known to say to her team 'I'm not your mother and I'm not here to pick up after you.' While I empathise (quite strongly, actually) with her, this isn't how I would suggest you word it. Employees don't like being treated like children – so appeal to their adult sense of responsibilities.
If you do have concerns about the way your employees are leaving the office, sit down and have a chat with them. I usually ask team members to help me work out the best way forward. By allowing them to supply the answers we reach an amicable and effective way of working.
Breaching workplace standards is a small but important thing, so do nip problems in the bud.
We deal with the good, the bad and the ugly of HR. If you need help resolving problems with grubby mugs or any other HR issues, give us a call on 01908 26 26 28.
Signed up for our free resources and weekly HR tip yet? Register and subscribe here.
Russell HR Consulting provides expert knowledge in HR solutions, employment law training and HR tools and resources to businesses across the UK.
Subscribe to our free monthly HR newsletter. Russell HR Consulting employment law newsletters are emailed automatically to our ever-growing number of subscribers every month.