English football is in the doldrums. Again. The England team were already a laughing stock after its abysmal performance at the Euros and then the newly appointed England manager Sam Allardyce got himself mixed up in illegal football transactions. Allardyce was England manager for 67 days and one match. Is it a new record?
Before Allardyce held his first training session as England's new manager he negotiated a deal with a group of men claiming to represent an organisation from the Far East. Their plan, was to make a profit from the Premier Leagues transfer market. During several conversations Allardyce was caught on camera complaining about the tax system in the UK. Describing HMRC as the "most corrupt business" in Britain, Allardyce offered advice on how to 'get around' the FAs rules on player's transfers in return for £400,000. The businessmen weren't Far East representative's at all – just undercover reporters from The Telegraph.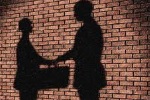 Unfortunately, this type of things is rife within English football. Not only did Allardyce discuss the £400,000 he entered into a conversation about third party ownership. Ownership deals have been described as new age slavery. The process allows organisations to own a stake in a footballer. If the footballer is to move clubs or enter into a sponsorship deal the company receive a share of it. This practice has been banned by both the FA and FIFA.
Allardyce was an international football manager and accepting a £400,000 payment to enter into an illegal agreement with a football agency firm whose footballer clients would benefit would be classed as a conflict of interest. Allardyce has now resigned and may never work in football again.
The Bribery Act came into force in 2010 and places duties upon employers to make sure they take reasonable steps to prevent and staff members' from engaging in bribery. The Act consolidates the common law and UK bribery related legislation into two general offences:
It is an offence to offer, promise or give a financial or other advantage for the purpose of bringing about an improper performance of a function or activity.
It is an offence to request, agree to or receive a financial or other advantage for the purpose of bringing about an improper performance of a function or activity or to request, agree to or receive a reward for having done so.
"Improper performance" is one which is in breach of an expectation of good faith or impartiality, or is in breach of a position of trust. The test of whether an activity has been performed improperly is what a reasonable person in the UK would expect in relation to the activity. If the activity takes place overseas, then any local customs are disregarded unless permitted by the country's written law. In each case, it is the intention to bring about the improper performance that is the key to the offence.
The Act also introduces a new offence of offering, promising or giving a financial or other advantage to a foreign public official where such advantage is not permitted under the written law applicable to that foreign official.
One way of demonstrating a business's commitment to preventing bribery is to have a clear written anti-bribery policy in place. The contents of a corporate anti-bribery and corruption policy will vary depending on the nature of the business but will probably cover things such as:
a clear statement of the company's desire to uphold the law on bribery and corruption
the responsibility of employees, agents, contractors, subcontractors and anyone else the company deals with
the process for reporting any possible acts of bribery or corruption
the penalty for breaching the policy e.g. dismissal for gross misconduct
what financial records will be kept to record payments made to third parties
an explanation of facilitation payments and how the business will deal with demands for such payments
what types of gifts, hospitality and corporate expenses might be allowed
how and when appropriate training will be given to employees
how the company will monitor and review the policy.
If you are in a high risk industry or do have concerns about bribery in your workforce make sure that you mitigate your risk by setting up ant-bribery monitoring systems in the highest risk areas of your business. Ensure proper training is given to employees on identifying and avoiding possible bribery.
We deal with the good, the bad and the ugly of HR. If you need help resolving problems with greedy employees or any other HR issues, give us a call on 01908 262628.
Signed up for our free resources and free weekly tip yet? Register and subscribe here.
Russell HR Consulting provides expert knowledge in HR solutions, employment law training and HR tools and resources to businesses across the UK.
Subscribe to our free monthly HR newsletter. Russell HR Consulting employment law newsletters are emailed automatically to our ever-growing number of subscribers every month.