Over the past few days the behaviour of West Indies Batman Chris Gayle has been under scrutiny following his 'wildly inappropriate' and 'out of line' remarks to a female news reporter.
Ten Sport's Mel McLaughlin approached him for an interview after his innings for the Melbourne Renegades against the Hobart Hurricaines. Responding to Ms Mclaughlin's questions on his approach to the innings Mr Gayle said: "I just wanted to have an interview with you, that's why I batted so well."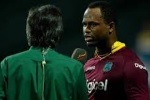 He added: "Your eyes are beautiful, hopefully we can win this game and then we can have a drink after as well. Don't blush baby."
After considerable critcism, Mr Gayle subsequently apologized, commenting "If she felt that way, I'm really sorry for that. There wasn't any harm meant in that particular way."
Cricket Australia's CEO, has labelled Mr Gayle's comments as inappropriate, stating "it's not a nightclub, it's a workplace and comments like this border on harassment". Mr Gayle has been fined AUD $10,000 for his remarks and may be given a lifetime ban from playing in Australian cricket leagues. Former Australian Test Captain Ian Chappell is calling for a worldwide ban.
Employees have the right to work without suffering harassment. It's sometimes a fine line between harmless workplace banter and inappropriate sexual harassment. While the wording of Mr Gayle's remarks was relatively mild stuff, the context, content and fact that it was made were all clearly inappropriate and certainly wouldn't have been made to a man. Ms McLaughlin found it embarrassing and so did many of those who witnessed the remark which was made on live TV.
All too often a bit of joking and harmless workplace banter can overstep the mark. It is crucial to nip inappropriate comments and behaviours in the bud promptly (even if nobody has complained). Make it clear that comments or behaviour that could be seen as harassment will not be accepted in the workplace. Employers can be liable for acts of harassment made by an employee in the course of his employment unless they can show that they took reasonable steps to prevent the acts in question from occurring.
Harassment is unlawful under the Equality Act 2010. It is defined as 'unwanted conduct related to a relevant protected characteristic, which has the purpose or effect of violating an individual's dignity or creating an intimidating, hostile, degrading, humiliating or offensive environment for that individual'.
Examples of harassment in the workplace include:
unwelcome remarks about a person's age, dress, appearance, race or marital status, jokes at personal expense, offensive language, gossip and slander
persistent unwarranted criticism
personal insults
unwanted physical contact
coercion for sexual favours
It can be a course of actions or remarks or a single, one-off event. Of course it is important that in the workplace your employees feel they are able to express and speak without rigid restrictions and not merely function as workplace robots. It is equally important that they understand boundaries in the workplace in regards to what they can and can't do or say. We often hear people say "I didn't mean any offence. It was just a joke". Bit workplace harassment is no joking matter.
Make sure you have a robust dignity at work policy, provide training in what it means and what will happen if it's breached. You must also ensure it is well communicated, monitored and enforced.
The CIPD provide helpful guidance to drafting a policy essential to tackling harassment, bullying and intimidating behaviour and contains the following points.
Give examples of what constitutes harassment, bullying and intimidating behavior including cyber-bullying, work-related events and harassment by third parties.
Explain the damaging effects and why it will not be tolerated.
State that it will be treated as a disciplinary offence.
Clarify the legal implications and outline the costs associated with personal liability.
Describe how to get help and make a complaint, formally and informally.
Promise that allegations will be treated speedily, seriously and confidentially and prevent victimisation.
Clarify the accountability of all managers, and the role of union or employee representatives.
Require supervisors/managers to implement policy and ensure it is understood.
Emphasise that every employee carries responsibility for their behavior.
Make employees aware of their rights and personal responsibilities under the policy and understand the organisation's commitment to deal with harassment. They should know who to contact if they want to discuss their experiences, how to take a complaint forward and the timescales for any formal procedures.
Some working environments inappropriate comments or behaviour are more likely to be made than other environments but just because it is commonplace it doesn't make it OK.
If you need help getting HR problems resolved in your business, get in touch.
Signed up for our free resources yet? Follow this link.
Russell HR Consulting provides expert knowledge in HR solutions, employment law training and HR tools and resources to businesses across the UK.
Subscribe to our free monthly HR newsletter. Russell HR Consulting employment law newsletters are emailed automatically to our ever-growing number of subscribers every month.