It's getting towards the end of the year and time to look back at 2016. It's been an extraordinary year in many ways. Some of those have been sad. We have lost many great artists this year. Some have been appalling....... the shocking terrorist attacks on families enjoying Bastille Day in Nice and more recently the attack on Christmas shoppers in Berlin. Some moments have been truly wonderful. Team GB's performance in Rio was great at every level.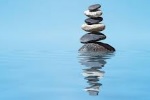 We can also look at 2016 and reflect on what it meant for us personally. We never stop learning and reflective practice is a way of studying your own experiences to improve the way you work. It is very useful for people who want to carry on learning throughout their lives. I do.
In this last blog of 2016 I thought I would think about how reflective practice can help us as individuals. I am not naturally a reflector. I am an operations person through-and-through. I walk fast, talk fast and formerly I used to 'shoot from the hip' and ask questions later. That changed when I did my MA back in 2004 because I had to build reflective conclusions into my thesis. Learning to reflect was hard for me, but it is a phenomenally useful tool to have and has saved my bacon hundreds of times since. If I can do it, you certainly can.
Most businesses don't give their employees time for reflection, especially when competitive pressures are escalating. Usually the emphasis is on working harder and not stopping to think. Increasingly research tells us that the process of actively thinking about our experiences, and questioning ourselves about what they mean, increases learning and therefore helps us improve the way we do things. What gets us from experience to understanding is reflection. By asking "what did I do well in that situation?", "what could I do differently", we can make small but cumulative steps to doing things better.
Reflective practice can take a variety of forms. For example, creating learning logs and writing down experiences helps to clarify what actually happened, to understand one's own interpretations of those events and then putting a meaning to them. Even taking five minutes to reflect at the end of the working day can help to put what you've done into context. It's easy to remember what's just happened and so it's a great opportunity to think about what's worked, what hasn't and what you can do differently (or more of) tomorrow.
In studies with project teams in a number of US companies, volunteers were asked to diarise their best days and their worst days. It was found that the most common event triggering a 'best day' was any progress in the individual's work or that of their team. The most common event triggering a 'worst day' was a setback. It seems obvious, but it's something we probably don't pay enough attention to. In particular, small incremental achievements were found to be just as effective as achieving large or significant goals in boosting inner work life.
Reflective practice is a learned process. It requires some degree of self-awareness and the ability to critically evaluate experiences, actions and results.
Neil Thompson, in his book People Skills, suggests that there are six steps:
Read - around the topics you are learning about or want to learn about and develop
Ask - others about the way they do things and why
Watch - what is going on around you
Feel - pay attention to your emotions, what prompts them, and how you deal with negative ones
Talk - share your views and experiences with others in your organisation
Think - learn to value time spent thinking about your work
This year my reflective practice caused me to create some great value for clients and prospective clients in the shape of a new book which provides some really effective practical ways of sourcing, attracting, recruiting and retaining client. Not only did I absolutely love writing 'Build Your Dream Team', it taught me so much and I am putting these new ideas into practice.
We deal with the good, the bad and the ugly of HR. If you need help with reflective practice, recruitment or any other HR issues, give us a call on 01908 262628.
Sign up for our free HR resources and free weekly tip.
Russell HR Consulting provides expert knowledge in HR solutions, employment law training and HR tools and resources to businesses across the UK.
Subscribe to our free monthly HR newsletter. Russell HR Consulting employment law newsletters are emailed automatically to our ever-growing number of subscribers every month.