Three weeks ago there was a serious train accident just outside Paris leaving six dead and injuring 22. Two weeks later safety was back in the news following the horrific Spanish train derailment. This time the death toll was 78. Then came the Italian bus crash at Avellino where at least 38 people died when the vehicle went through the safety barrier on a flyover. Questions will of course now be asked whether the drivers were going too fast, were there technical problems and what safety measures were in place if any to monitor and avoid this from happening.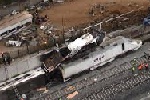 Back in the UK, the new Channel 4 period drama has started. The Mill, set in an 1830s Lancashire Victorian mill house, pre the 10 hour bill shocks from the start. The opening scene was a young boy's hand which is severed because of a lack of health and safety measures. Life may not be perfect now but it makes you realise how lucky we are compared with our great grandmothers and great grandfathers.
It's easy to forget or joke about health and safety. As employers we have a legal duty to ensure that we take steps to protect the safety of people who come to our workplaces, staff or other visitors and make sure staff adhere to safe standards of conduct as well.
Most of the time accidents come about for a reason. Unsafe acts are far more likely to result in an accident than unsafe conditions. 80% of the time accidents are caused by people and the most common causes of accidents are as follows:
Taking shortcuts and cutting corners
Overconfidence
Disregarding safety procedures
Poor housekeeping
Allowing oneself to be distracted
Poor planning of work
Employers have a legal duty under The Health and Safety at Work Act 1974 to provide whatever information, instruction, training and supervision as is necessary to ensure, so far as is reasonably practicable, the health and safety at work of your employees. This is expanded by the Management of Health and Safety at Work Regulations 1999, which identify situations where health and safety training is particularly important, for example, when people start work, on exposure to new or increased risks and where existing skills may have become rusty or need updating.
Carry out the risk assessment to identify and mitigate risks.
Communicate the risks and avoidance measures.
Set workplace safety standards. Communicate, monitor and enforce.
Provide safety equipment and training.
Keep and review records.
Make a high safety profile. Engage employees in the process and ensure they understand their role in enforcement.
Set a good example yourself.
Mark Twain put the need to be safety-aware rather well: "It is better to be careful 100 times than to be killed once"!
I don't think anyone would disagree.
If you know anyone who would like some help with employment rights in the workplace (or any other HR query) email us or call 0845 644 8955.
Stay up to date with the latest UK employment law news, HR products, HR solutions and surprise announcements from Russell HR Consulting follow us on Twitter and Facebook.
Russell HR Consulting provides expert knowledge in HR solutions, employment law training and HR tools and resources to businesses across the UK.
Subscribe to our free monthly HR newsletter. Russell HR Consulting employment law newsletters are emailed automatically to our ever-growing number of subscribers every month.