A recent study by the TUC suggests that fathers working full time receive a 21% wage "bonus" in comparison with male employees who do not have children. The TUC suggests that the differential can be partly explained by fathers working longer hours and putting in increased effort at work. Labour market figures show that men with children work slightly longer hours, on average, than those without. An additional factor may be a form of positive discrimination: the TUC report makes reference to international studies, which found that CVs from fathers scored more highly than identical ones from non-fathers. It may be that employers potentially view fathers as more reliable and responsible employees.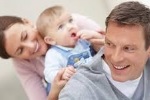 The study suggests that mothers who worked full time earn 11% less than their colleagues without children. The same international studies show that CVs from mothers were marked down against those from women without children. UK figures show that mothers tend to work shorter hours than childless women in similar jobs.
The TUC's findings should be balanced against figures from the Office of National Statistics which reported in November 2015 that the gap between men and women's pay for full-time workers was 9.4% in April 2015, compared with 9.6% in 2014.
The publication of the TUC's research comes at an interesting time. April marked the first anniversary of the introduction of shared parental leave (SPL). SPL came into force for parents of babies due on or after 5 April 2015. It permits parents to share leave and pay, provided they meet the eligibility criteria. It is an extremely unpopular right with employers. The principle of sharing leave between parents is fine but the employee's right to take several separate periods of leave at different times on demand makes the planning, organising and managing work generally almost impossible. Particular problems arise in areas where skills take a long time to learn and/ or are difficult to cover on a temporary basis.
Although there won't be a formal review of data assessing its impact until 2018, a survey by My Family Care and the Women's Business Council suggest that there has been a 30% take up of shared parental leave among new fathers within the past year, which is much higher than originally anticipated by the Government.
Employees must meet certain minimum requirements to be entitled to take shared parental leave and pay. They must either share responsibility for the child with either their husband, wife, civil partner or joint adopter, the child's other parent or be the partner of the child's parent (if they live with you and the child). They must certify to their employer that they are eligible for this right.
SPL or shared parental pay can only begin once the child has been born or placed for adoption. The mother or the person adopting the child should do one of the following. End any maternity or adoption leave by returning to work or give their employer a date of when they plan to end maternity or adoption leave. Maternity or adoption pay will also end. If the parents are eligible they will be able to take shared parental pay.
In last year's budget the Government proposed allowing working grandparents access to SPL by 2018. The introduction of grandparental leave could result in parents being less likely to use their full maternity or SPL entitlements as grandparents step in to assist with childcare.
We deal with the good, the bad and the ugly of HR. If you need help resolving problems with family friendly issues (no we don't do nappies) or any other HR issues, give us a call on 01908 262628.
If you need help getting HR problems resolved in your business, get in touch.
Signed up for our free resources and free weekly tip yet? Register and subscribe here.
Russell HR Consulting provides expert knowledge in HR solutions, employment law training and HR tools and resources to businesses across the UK.
Subscribe to our free monthly HR newsletter. Russell HR Consulting employment law newsletters are emailed automatically to our ever-growing number of subscribers every month.