Over the last six months I have had to get involved in a good deal of recruitment one way or another. It is clear that good quality candidates are generally pretty rare. A recent study shows 85% of HR executives state the single greatest challenge they have in managing the workforce is their organization's inability to recruit and retain good employees and managers. It's clear that to get the brightest and best we're going to have to think a bit smarter. I had a look to see what others are suggesting. Here are a few ideas for a slightly different approach to recruitment.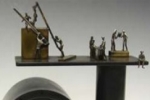 Look after your pipeline: Maintain frequent contact with interested and quality candidates.
Publicity: Advertise, host events, be seen as an active business within the community to spread the word about HOW GREAT it is to work for your company!
Employee Networks: Ask your existing employees for referrals. Offer incentives for referrals.
Educational Institutes: Place your job on a local university website, or call the university careers office and discuss potential ways to reach new graduates. Develop relationships with a contact from the careers office so they can continually send quality candidates your way.
Recruit the currently employed: Stay in contact with candidates who have shown interest but are employed. Also use your involvement in job fairs, workshops, trade shows, community events to keep your eyes open for talent—even if talent has current employment.
Alternative Advertising: Think signs, Youtube, community TV and radio, etc. Try to think outside of the newspaper and online job boards.
Community Advertising: Local community boards, laundrettes, clubhouses, and the community boards at local parks, shops and the YMCA are good sources for advertising open positions/general ads about your organization.
Any organizations you may be involved in, such as your local business association, residents association, Rotary, gardening/fitness Clubs, and even the Parent Teacher Association would be a great place to network and find good people.
Constant Recruiting: Leave your business card with a friendly server, cashier, attendant, hair stylist, etc., who has helped you and demonstrated great customer service. Write on the back "Call me to discuss possible job opportunities –we could use talent like you!"
Correspondence: Create postcards that say "Why should you work for our company?" and list your competitive benefits and incentive programs. Leave them in places like libraries, cafés, shop counters.
Sports PR: Sponsor a community, business or college sporting event. You will get your name on the program and maybe even t-shirts.
College Talk: Volunteer to speak at a local HR/Business Administration class at a university or nearby community college. Offer on the spot interviewing.
Workshops Host a free CV and cover letter writing workshop, interviewing tips or a course on acquiring a desirable job skill. Be on the lookout for talent.
Close to home: Recruit interested spouses, partners or fiends of current employees. Ask them for referrals as well.
Branding: On any recruiting publication, set out what makes you different and the best place to work for. Survey a few associates and ask them why the enjoy working for you, and then take the common responses and use it to testify about how great you are!
Recruit in your Email Signature: At the bottom of every email, even to friends and family, include a line about registering on the company website; add that if they upload their resume to our website it will be viewed by local employers.
Having been disappointed with some of the applications that have arrived, I have decided to use some of these. Wish me luck!
Russell HR Consulting provides expert knowledge in HR solutions, employment law training and HR tools and resources to businesses across the UK.
Subscribe to our free monthly HR newsletter. Russell HR Consulting employment law newsletters are emailed automatically to our ever-growing number of subscribers every month.