We all have off days. It's quite normal. Everyone has aspects of their job that they hate/ love/bore/ or that excites them.
This week I read with increasing incredulity that a Frenchman Frédéric Desnard has taken his previous employer, Interparfums, to tribunal because he found his job boring. Poor little chap.
M Desnard is seeking €360,000 (£282,000) in compensation and damages, including holiday pay that he says is due. He was employed as a manager at Interparfums for four years and was made redundant in 2014. He has now claimed that between 2010 and 2014 he was put "dans le placard" (in the cupboard),a French idiom for being shelved and given little or no work to do.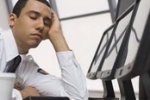 He says that the tasks he was doing had little or nothing to do with his original role causing him to feel 'destroyed' and suffer 'serious depression'. He further argues that the stress and lack of real work triggered an epileptic fit on his way to work.
On reading this, I concluded that since his boredom didn't cause him to do or say anything until he was made redundant, it's presumably simply a creative new way of trying to extort money from his former employer.
He may well have been unhappy, but instead of blaming his employer he could have done several things, none of which are not exactly rocket science. He could have discussed his concerns with his employer, got himself seconded to a project, got another job, asked for a sabbatical, started his own business. There are always options. The Queen Mother used to say that only boring people are bored….. perhaps the fault didn't lie with the company but M Desnard.
Be that as it may, this type of thing gets you thinking. There are hundreds, probably even thousands, of employees who are unhappy in the job that they are doing and it bored, unhappy employees will cause problems.
It is not employers' responsibility to spoon feed and entertain its employees, but they should be looking for ways to motivate and build engagement with its work force. Those employees who will never be happy whatever you do for them are Dementor-like black holes and you can either let them get on enjoying themselves being miserable or manage them out. For most people you can take steps with reasonable success to get them on board (not bored!).
Since 2013 the number of employees looking for new jobs has risen dramatically and job satisfaction is at its lowest in two years. A CIPD/ Halogen Employee Outlook study surveyed around 2,000 people and found that a quarter of employees were looking for a new job. That's a fairly significant number in such a small survey, though some of that may well be due to the recession effect where people hang on to the jobs they do have until better times come and they can move on.
The survey also looked at job satisfaction and this showed a decrease since autumn 2015 with the private sector scoring lowest. The survey showed that 33% of those surveyed felt that their employer was fulfilling employees' career aspirations but 36% disagreed.
Some employees will tell you they are not happy, others won't say anything at all and get on with their job until they find another one. Having regular one to one discussions to find out how employees are getting on is important. Employees can discuss any problems, difficulties or concerns they might have with a line manager or supervisor. Understanding your employees will allow the business to have a better understanding of what is going on and how to deal with it.
If the relationship is not there breakdowns can occur and employees do not feel that they have someone within the business that they can talk to. Encourage managers to build good rapport with employees and encourage employees to discuss their aims for work and career development with the business. It has to be a two-way street.
We deal with the good, the bad and the ugly of HR. If you need help resolving problems with unhappy employees or any other HR issues, give us a call on 01908 262628.
Signed up for our free resources and free weekly tip yet? Register and subscribe here.
Russell HR Consulting provides expert knowledge in HR solutions, employment law training and HR tools and resources to businesses across the UK.
Subscribe to our free monthly HR newsletter. Russell HR Consulting employment law newsletters are emailed automatically to our ever-growing number of subscribers every month.