This weekend we enjoyed some really wonderful weather. Finally, it seemed, summer has arrived and a very welcome arrival it was too after such awful weather for so long. Many of us rush into the sun, desperate to enjoy it and quite often shedding too many clothes without taking proper precaution. We all know that too much sun can be dangerous and the news that two soldiers died during a training exercise on Saturday in the Brecon Beacons of causes linked to the heat (and a third is in a serious condition) is a sobering reminder of how we have to remember to adapt to different weather conditions to minimise risk.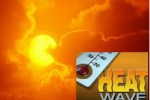 Wales is better known for its heavy rainfall than heatwaves, but on Saturday temperatures reached 30C (86F) in Powys.
The Beacons makes up one of the largest military training areas in Britain and are used for a wide variety of exercises. At one end of the scale, cadets are taken mountain walking and at the other end the SAS use it.
The MoD is currently investigating and details have not yet been released but it's thought likely that the men may have been carrying very heavy equipment.
Six men collapsed during heavy physical exercise and were taken from a hillside on Saturday afternoon by an RAF Sea King helicopter to hospital in Merthyr Tydfil, but two could not be saved. A third soldier remains in hospital and the rest were released.
Full details have not yet been released but it's thought said the men fell unconscious during strenuous physical exercise close to Pen y Fan, the highest mountain in South Wales. All were in the Territorial Army and the heat was being investigated as a factor in the deaths.
Knowing how to work safely in hot weather can help prevent heat stress injuries and heat stroke, the most serious heat-related disorder.
Make sure employees who are working outside in the heat should wear light, loose-fitting clothing. Avoid harmful UV rays by sticking to long trousers (no shorts) and long-sleeved shirts, and apply plenty of sunscreen.
When working in the heat, encourage employees to drink plenty of water. Encourage regular work breaks or other rest area.
Know what to look for. Heat stroke occurs when the body can no longer control its temperature. When this occurs, body temperature can rise to 106° F or higher within 10 to 15 minutes. If emergency treatment is not provided, heat stroke can cause death or permanent disability.
Symptoms of heat stroke include:
An extremely high body temperature (higher than 103° F)
Red, hot and dry skin with no visible sweating
Rapid, strong pulse
Throbbing headache
Dizziness and/or nausea
Unconsciousness
It's lovely to see the sun and it's tempting to take risks – but stay cool and stay safe.
If you know someone who needs HR guidance and who'd like to hear from us, please let us know. We'll be happy to help out.
Russell HR Consulting provides expert knowledge in HR solutions, employment law training and HR tools and resources to businesses across the UK.
Subscribe to our free monthly HR newsletter. Russell HR Consulting employment law newsletters are emailed automatically to our ever-growing number of subscribers every month.