I recently blogged about the appalling conditions of factory workers in Asia, making items for cheap retail stores like Primark. When asked to think about the working conditions of different industries and professions, most of us automatically think of developing countries, but what about closer to home? Britain has the benefit of a broad range of employment laws, to protect workers' interests, award rights and help ensure that employees work in safety. Even so, some businesses can be a bit casual about workers' rights. At the moment the spotlight has been turned on the working conditions of employees in the UK fashion industry which have recently been brought to our attention by Debenhams, the first high-street retailer to sign up to a new code of conduct for working conditions for models.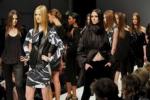 Many girls and young women aspire to work as models. The first thought that springs to mind is glamour, and many wouldn't even give a second thought as to the working conditions. After all, on the face of it, what could be more fun? Not only do you get to wear beautiful clothes, but you're made up to look beautiful and are put in beautiful places. And you get paid for it! Linda Evangelista is supposed to have said "I don't get out of bed for less than $10,000 a day". It doesn't seem to be too much hard work just standing there and looking pretty, but the glamour and pay (and most people aren't in the same bracket as Mesdames Evangelista, Moss, Campbell et al) is only half of the story and there some real horror stories out there.
American model Kate Upton hit the headlines earlier this year when she got frostbite in Antarctica. For the assignment she wore a white string bikini on the shores of the South Pole. Bosnia model Dunja Knezevic suffered hypothermia after eight hours of shooting summer clothes in outside autumn temperatures. She fainted on set and was packed off home in a taxi. She was ill for over a week, and had her pay docked because she was too sick to attend the second day of scheduled shooting.
Debenhams decision to offer fair treatment to the men and women it uses in its advertising, comes after Vogue also signed the plan agreed with the models' union Equity. Through Equity, models have developed a code of conduct which ensures that models work for no more than ten hours a day, are provided with food and water, are given regular breaks, have organised transport to and from the shoot, work in suitable temperatures, have prompt payment and are not required to do anything that's considered "dangerous, degrading, unprofessional or demeaning".
It's to be hoped that such basic rights will be respected, but not all models are confident that the deal will see improvements across the board. Busy schedules mean that models are sometimes expected to shoot whole fashion catalogues in one day, meaning that retailers are reluctant to sign up to Equity's code.
The majority of people would be fainting if they had to change their hair, outfits and make-up 70 times a day without so much as a bite of a Ryvita cracker. Size zero aside, it's time that companies faced up to their responsibilities as employers, and gave models the working conditions that everybody in employment deserves.
Russell HR Consulting provides expert knowledge in HR solutions, employment law training and HR tools and resources to businesses across the UK.
Subscribe to our free monthly HR newsletter. Russell HR Consulting employment law newsletters are emailed automatically to our ever-growing number of subscribers every month.