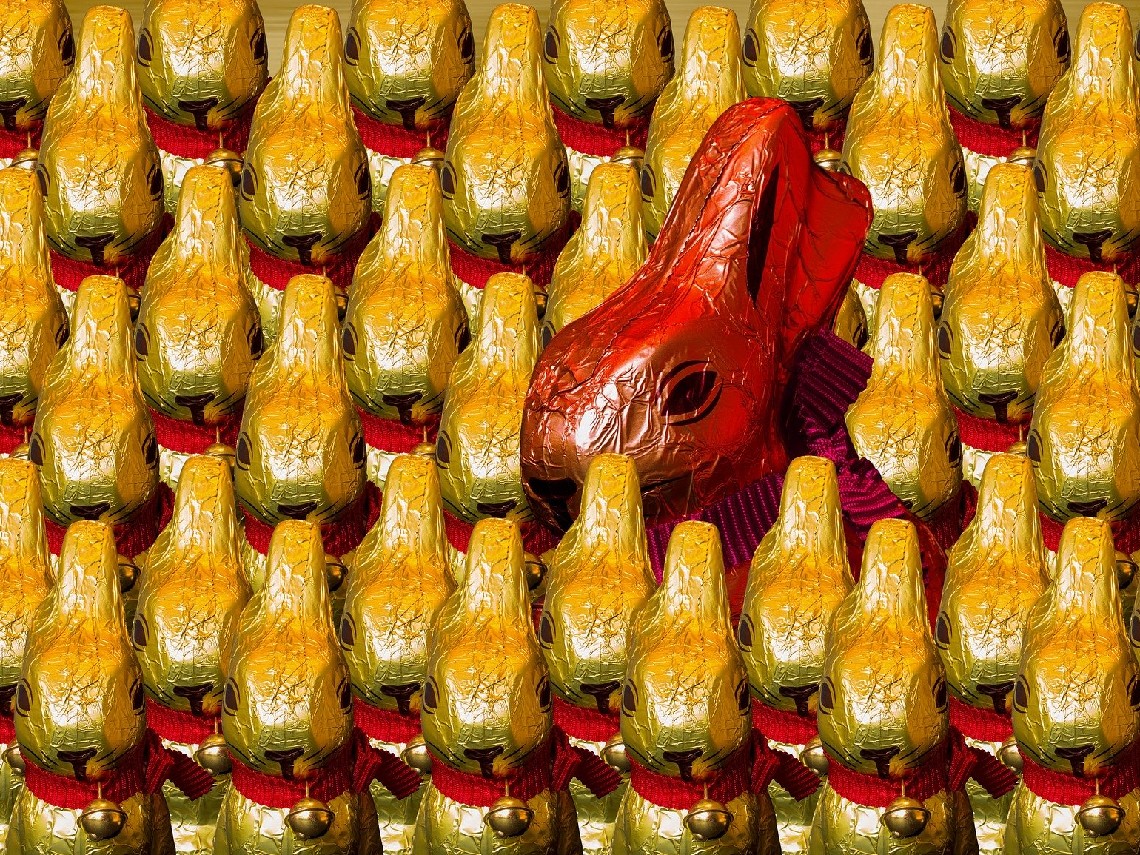 The long-awaited Easter weekend has now been and gone. Many of us will have feasted on chocolate eggs until we were ready to explode (some of my team are particularly partial to a spot of chocolate, whether it's egg or Easter bunny shaped). I've lost count of the number of adverts I've seen with "buy one get one free" offers in the shops; it's no wonder that we will have been tempted to blow our diets for a weekend of chocolate bliss.
Just before Easter, one of the Government's websites issued a stark reminder about our national tubbiness, pointing out that over 60% of British adults are either overweight or obese and 30% of children are overweight. What appalling figures (no pun intended, as always). Maybe that's why Easter egg sales dropped by 5% this year. People may be cottoning on to the fact that too much of anything high in fat and sugar is going to be bad for you. Being overweight not only increases the risk of developing diabetes and certain cancers, but it can also affect self-esteem and mental health, making it more difficult for people to keep and find work.
The recent case of Walker v Sita Information Networking Computing Ltd concerned an obese employee, Mr Walker, who argued before the court that the conditions stemming from his obese condition were capable of being disabilities and therefore attracting the protection of the legislation. The tribunal had to consider whether or not he was disabled for the purposes of the disability discrimination legislation.
Mr Walker was over 21 stone, and suffered from a number of ailments, including asthma, dyslexia, knee problems, diabetes, chronic fatigue syndrome, bowel and stomach problems and anxiety and depression. These conditions caused him to suffer from pains in the head and knee, bowel problems, constant tiredness and poor concentration, and affected his everyday life. At the tribunal there was no challenge to the genuineness of Mr Walker's symptoms and their effects. The majority of his ill health conditions arose from or were related to his obesity.
Although the tribunal concluded that Mr Walker was not disabled (no physical or mental cause could be identified for his symptoms),the EAT disagreed with its approach. It found that the tribunal should have regard to the effect of his impairments, not their cause. They key issue is whether or not the individual is physically or mentally impaired, and Mr Walker was and had been for a long time.
The EAT concluded that if an individual claims to be disabled, but there is no apparent cause of that disability, the tribunal should decide on the evidence available to them, whether the individual does not genuinely suffer from that disability. The EAT did not accept that obesity is automatically a disability within the meaning of the Equality Act, but it observed that it would make it more likely that someone was disabled. Being obese may prevent a tribunal from readily finding that somebody suffers from an impairment, and so the EAT concluded that it may be relevant to ask whether or not the obesity affects the length of time for which an impairment would be suffered. The EAT subsequently found that Mr Walker was disabled under the meaning of the DDA.
Obesity rates are increasing so employers should be aware that some obese employees may also be disabled. While obesity is not a disability in itself, as this case shows, it could make a condition flowing from the obese state of the individual more likely that the person is disabled. This is akin to a situation where an alcoholic could be protected from discrimination because of his associated liver disease (not because of his alcoholism, which is an excluded condition).
It might be worthwhile helping your employees live a healthier lifestyle to avoid the onset of this type of problems arising. One tradition which is inherent in many companies is the provision of cakes and biscuits in the staff room. Try fruit instead. A lot healthier, and surprisingly employees who are struggling with their diets will appreciate a helping hand now and again.
Russell HR Consulting provides expert knowledge in HR solutions, employment law training and HR tools and resources to businesses across the UK.
Subscribe to our free monthly HR newsletter. Russell HR Consulting employment law newsletters are emailed automatically to our ever-growing number of subscribers every month.