So far as the law relates to disability, the first question is whether an employee is disabled. The second is, if he is disabled, what reasonable adjustments can be made to accommodate him?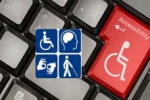 When determining whether or not an employee is likely to be disabled, it's easy to fall into the trap of looking at what the worker can do, rather than what they can't. Under the Equality Act 2010, a person is disabled if he has a physical or mental impairment which has a substantial and adverse long-term effect on his ability to carry out normal day-to-day tasks.
Mr Aderemi was a station assistant for London and South East Railways. In the course of his normal duties, he was required to check tickets and open automatic gates. This role involved prolonged standing. He suffered a back problem which meant that he could not stand for more than about 25 minutes at any one time during his nine hour shifts. Mr Aderemi was absent for significant periods owing to back pain which he believed was due to this. On his return to work, he was certified as fit for duties by occupational health, but there were limitations in mobility (limited standing and bending) which caused a high level of discomfort for him. Eventually he was dismissed on capability grounds and brought a disability discrimination claim.
While accepting that Mr Aderemi suffered a physical impairment, the employment tribunal concluded that back pain did not cross the threshold into the definition of disability. The tribunal focused on what Mr Aderemi could do, rather than what he couldn't. But on appeal the EAT concluded that the tribunal had taken the wrong approach and said that in determining whether the employee was disabled, the court should consider what he couldn't do. The case was remitted back to the tribunal to determine whether or not Mr Aderemi was disabled or not.
Determining whether an employee is disabled can be a complex issue and it's better to err on the side of caution and work on the basis that the employee is disabled. Many workers won't even disclose their condition until they absolutely have to, and until they do, there is no obligation on you to make reasonable adjustments for them, unless it was reasonable for you to conclude that something was wrong.
If an employee does disclose relevant information to you about their medical condition however, you are expected to act on the knowledge and obtain relevant medical advice where appropriate. You are also under a duty to consider what reasonable adjustments can be made to help the employee with his work. Interestingly (or perhaps just confusingly),where you are considering reasonable adjustments you should focus on what the employee can do, rather than what he can't! Reasonable adjustments can range from everything from redeployment to another job or department, or supplying specialist equipment. Had Mr Aderemi's employers discussed his condition with him, an agreement for a way forward might have been reached which suited both parties.
Most conditions have the potential of being (or becoming) a disability under the provisions of the Equality Act. If you would like help dealing with an ill-health or disability issue in your organisation, get in touch.
Russell HR Consulting provides expert knowledge in HR solutions, employment law training and HR tools and resources to businesses across the UK.
Subscribe to our free monthly HR newsletter. Russell HR Consulting employment law newsletters are emailed automatically to our ever-growing number of subscribers every month.